Building Construction Process
A better understanding of building construction basics is essential for completing a building construction project. It is the first step toward the successful completion of a construction project.
Construction of a building requires time, effort and significant investment. It is like solving a puzzle regardless of the type of building.
Before starting the construction of a building, one should plan it according to its purpose and uses so that the building construction process begins with its plan.
So, here we are sharing a step-by-step process of building construction from start to finish in the article.
These essential steps will help you plan your housing project efficiently and in a preferred way.
Our motive is to deliver you a better understanding of the building construction process in an easier way.
So, we have organized this process into two stages; the pre-construction phase and the construction phase.
Building Construction Process Step BY Step
The steps that apply in the building construction process from start to finish are listed as follows:
Pre-Construction Steps
Acquisition of Land or Plot.
Building Plan & Technical Drawing
Estimation and Budgets.
Building Permission from Authorities.
Hire a Contractor.
Building Construction Steps
Site Cleaning or Levelling work
Site Survey And Layout
Excavation and PPC
Foundation
Plinth Beam
Backfilling
Superstructure
Stair And Lift or Elevator
Floor or Roof Slab
Masonry Work
The lintel above the door and Window Opening
Electrical and Plumbing Conduits
Door Window Frame Fixing
Interna Plaster Work
Parapet and Front Elevation work
External Plasterwork
Roof Waterproofing and Finishing
Internal Finishes
Pre-Construction Steps
Acquisition of Land or Plot
It is the primary and most essential step for building construction to find a land or plot that is most suitable for constructing a building.
While selecting land make sure it should be free from all land-related issues and all the necessary facilities should be available near it.
Before purchasing a plot or land for building construction, it is advised to get information about the actual cost of the property through online research or assistance from a real estate agent or other concerned parties.
Building Plan & Technical drawing
Hire a professional architect for building designs and drawings after choosing a suitable site for construction.
An architect can assist you in creating a perfect building plan that meets your demands, taking into account your budget and requirements.
The architect will consult with the structural engineer for the structural design and other technical aspects of the building, such as the type of foundation to be used and its depth, footing and column size, etc.
Estimate And Budget
The construction of a building requires large amounts of materials and funds. After completing the planning and structural detailing, these details are forwarded to the estimator.
An estimate engineer calculates the quantity of materials for different items of work and labour required to complete the building and prepares an abstract sheet that shows the construction cost of the building.
If you have limited funds, you need to get a pre-approval loan in advance so that you don't get yourself into a cash crunch.
Building Permission
Before starting the construction on site, it is crucial to complete this duty. Before starting the project on-site, we must obtain approval from the relevant regulatory organisation and local authorities.
The required paperwork for getting permission for a building project is listed below. Some of these documents are essential for every building construction project, and others may vary from state to state, 
Land survey: A land survey must be performed with the assistance of a licenced land surveyor.
The land's soil test report.
Land records
Sectional drawings/architecture/elevation drawings
Report on Structure
Architect's Certificate of Undertaking and Civil Engineer's Certificate of Undertaking on Record
Hire A Builder or Contractor
To ensure high-quality building construction and on-time project completion, selecting the right builder or contractor for construction is essential.
Before allotting the work to the contractor, his previous performance must be thoroughly investigated. All essential information about the work must be included in the contract document.
The contract agreement should include information about the work's plan and specifications, as well as payment terms, deadlines, and expenses. Before finalising a deal, the contract's terms should be carefully examined.
Building Construction Steps
Site preparation or levelling
Before starting the work on-site, it should be adequately cleaned, including removing grass, debris, and ground levelling.
Site Survey And Layout
After cleaning the construction site, the next step is a site survey and layout. The layout survey is the process of interpreting the building plan and marking the position of the proposed structure on the ground surface using survey equipment such as the total station so that excavation for the foundation can be carried out.
The first step in any construction project is to survey the site for access points, utilities and other infrastructure.
This information is used to determine where to build the structure, how much it will cost and how long it will take to construct.
A magnetic locator is an instrument that detects underground metal objects with magnetic properties such as pipes, electrical wires and rebar.
It can also detect voids where concrete slabs have been removed or where there are no objects at all.
Excavation And PCC
Following the layout, excavation for the specified foundation is carried out with the help of excavating machines.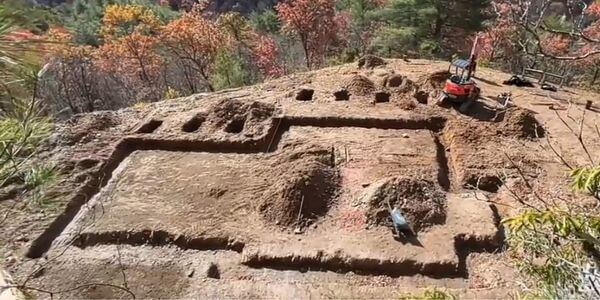 Then a layer of PCC is laid in the excavated trench for placing and binding of foundation reinforcement bars.
Foundation
Foundation is the lowest artificially prepared part of the structure, which is in direct contact with the ground and transmits the load of the superstructure to the ground.
Hence, it demands significant supervision and precision during construction. After completing the reinforcement binding work for the foundation, its casting is done, and preparation for the plinth beams starts.
Plinth Beam
Now bar binding and shuttering work for the plinth beam is completed. Then it is poured with concrete.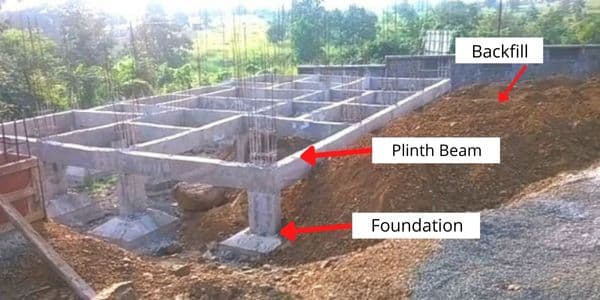 A plinth beam is a component of the superstructure located between the ground level and floor level to assist in transmitting the load of the structure to the foundation.
It also offers safety to the building against the penetration of moisture and a pleasing architectural appearance. At the top of the plinth, a damp-proof course is provided. It's typically 75 mm thick plain concrete.
Backfilling
It is the method of restoring or reusing soil removed during excavation. Backfilling helps in strengthening the foundation and supporting it and other structural members.
The soil condition of your site decides the type of backfilling material you use. The soil is compacted with heavy rammers or a compactor after each layer of backfilling. Backfilling is done in layers of 15 to 20 cm in thickness to ensure proper compaction.
Superstructure
The structure above the plinth level is known as a superstructure. It consists of all parts of the building above the plinth level, like walls columns, slab beams, doors windows etc.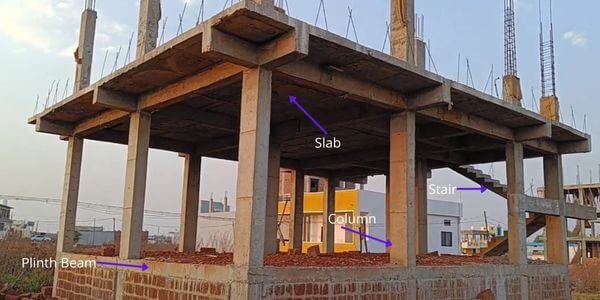 The walls are made of bricks or stones and divide the building space into different halls and rooms. The walls also support slabs and beams. They also give privacy and offer protection against heat, cold and rain.
After completing the plinth beam, columns are constructed up to the slab level and move forward toward slab formwork.
Stairs And Lift or Elevator
The stairs connect the floors. Elevators or lifts are necessary for all public buildings for the comfort of the elderly and disabled people.
Floor or Roof Slab
Now formwork for the floor or roof slab started. After completing the formwork reinforcement bars for beams and slabs are placed as per the structural drawing.
After completing the reinforcement work electrical pips are provided between reinforcement and then the slab is poured with concrete.
Masonry Work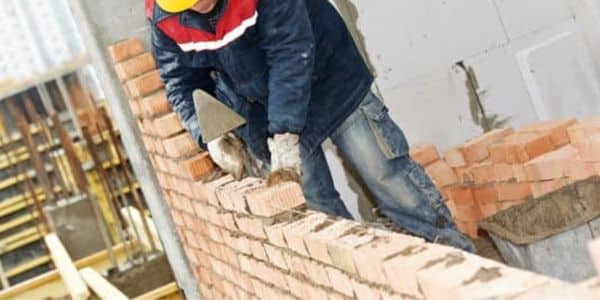 After removing the slab formwork, masonry work starts using different materials such as bricks, stone, and concrete blocks, AAC Blocks with cement mortar. Opening for doors and windows are provided as per the drawing.
The lintel above Doors and window opening
Lintels are constructed above the door and window openings support the masonry rest above it. Then masonry work is completed up to the slab level.
Electrical Conduits and Plumbing Pipes
After completing the brickwork, grooves are made on walls to install electrical conduits and plumbing pipes as per the electrical and plumbing drawing.
Doors And Window Frame
After completing the electrical conduits and plumbing pipes and fixing work door and window frames are set in the opening left for them as per the drawing.
Internal Plaster Work
After the installation of plumbing and electrical conduits, plastering work begins. The building's interior and exterior are plastered with cement and sand mixture.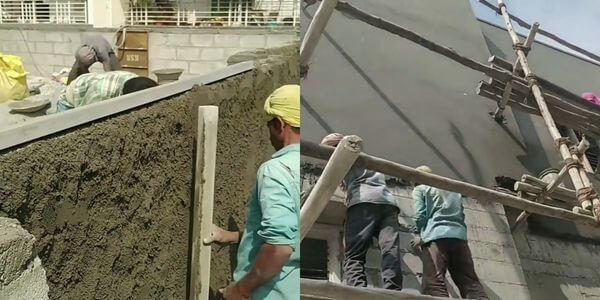 The internal walls surface has a coating that is 10 mm thick, and the outer wall surface has a coat that is 15 to 20 mm thick.
Plastering can strengthen the structure of the building, shield it from the impacts of the weather, and improve its aesthetic appeal.
Parapet And Front Elevation Work
Now parapet walls are constructed on top of the roof and elevation work is completed as per the drawing.
External Plaster Work
External plastering is completed with appropriate materials to protect against rain penetration, weather effects, aesthetics of the building and, most importantly, to extend the service life of the building.
Roof Waterproofing and Finishing
Waterproofing is done on the top of the slab to avoid any leakage. Then Terrazzo tiles are typically installed on the slab to protect it from the effects of weathering.
Internal Finishing
After proper curing of the plaster for a specified period, internal finishing work starts. Experts carry out the interior design in accordance with the steps outlined by the architect.
False Ceiling
Any place looks more elegant and luxurious when it has false ceilings. False ceilings not only conceal unsightly wiring but also give a rich appearance to your home.
Since they prevent heat and cold from entering space, they are also more energy-efficient. After completing the internal plaster work false ceiling work starts.
Wall Putty
The primary goal of putty work is to fill voids, cracks, and pores which have formed on the plastered surface. It helps to create a smooth, flat surface for the painting job.
After completing the false ceiling work wall putty work starts. Two coats of putty are applied on the surface of the exterior and interior wall and left for further finishing.
Flooring & Kitchen Platform
Numerous flooring material options are available in the market, depending on application aesthetics and user preference.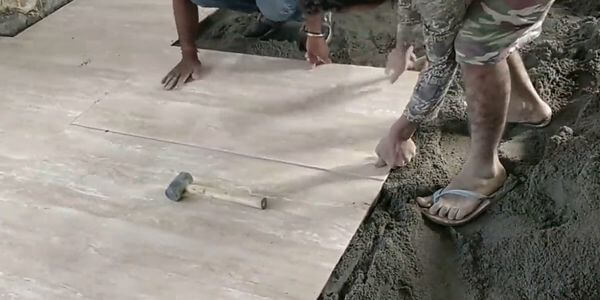 While selecting flooring materials, you should consider their durability to resist future wear and tear. After two coats of putty, flooring work starts.
Tiles are fixed on floors and toilet walls. Kitchen platform work is also completed at this stage.
Door And Window Shutter
After completing the flooring work door and window shutters are installed in the door and window frames to make the building secure.
Electrical Work
Building construction needs high power requirements, and it is necessary to complete the electrical wiring work to perform all tasks on site
In order to facilitate site operations, all power cables, distribution boards, and sockets are installed.
Painting work
Painting gives an elegant look to the building and protects the walls from weather effects. Now the wall putty is rubbed and primer is applied to the wall to get better coverage of emulsion paint.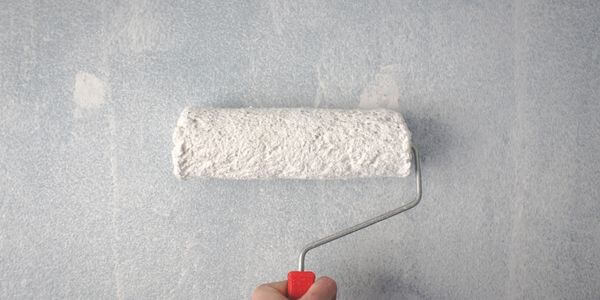 Then the first coat of emulsion paint is applied to the walls and the second coat is left for the last finishing touch.
The primary goal of painting a building is to extend its life and add colour to it to improve its appearance.
Painting adds beauty to building walls, protects them from dirt and stains and extends their life. However, stains do find their way onto the walls.
There are several paint options that will protect the building from stains, mud, sunlight, rain, dirt, and so on for a long time.
High-quality paint provides an additional 5 to 10 years of life and an elegant look for the exterior and interior.
Electrical and Plumbing Fixtures
Now electrical and plumbing fixtures are installed. Electric wiring with earthing is done to protect people from accidents and voltage fluctuations.
All pipe fittings and accessories used for drainage and water supply are referred to as plumbing. The Sanitary job involves transporting wastewater to the sewerage systems using plumbing fixtures.
Woodwork
Now furniture work starts including Almirah, beds, sofa, TV cabinets, modular kitchen work etc.
Cleaning And Final Touch
Any garbage or debris produced during the construction process is removed from the entire site. All the final touches required to complete the building are finished at this stage.
Final Words
Building construction is a significant, life-long investment. As a result, the real estate industry is one of the prime investments ever made.
Housing needs will continue to increase as the population of a given area grows. As a result, it is essential to address this demand with an adequate supply of quality housing.
This guide has given you an idea of what it takes to build a house. Most buildings, whether they are a home, offices, companies, event and tourist centres, or shopping malls, go through the construction processes listed in this article.
Thanks!
FAQs
What is the process of building a house from start to finish?
The construction of a can be completed in two stages.
Pre-construction Stage
Construction Stage
Each Phase has its construction steps.
What are the steps for building construction?
The steps that apply in the building construction process from start to finish are listed as follows:
Pre-Construction Steps
1. Acquisition of Land or Plot.
2. Building Plan & Technical Drawing
3. Estimation and Budgets.
4. Building Permission from Authorities.
5. Hire a Contractor.
Building Construction Steps
1. Site Cleaning or Levelling work
2. Site Survey And Layout
3. Excavation and PPC
4. Foundation
5. Plinth Beam 
6. Backfilling
7. Superstructure 
8. Stair And Lift or Elevator
9. Floor or Roof Slab
10. Masonry Work
11. The lintel above the door and Window Opening
12. Electrical and Plumbing Conduits
13. Door Window Frame Fixing
14. Internal Plaster Work
15. Parapet and Front Elevation work
16. External Plasterwork
17. Roof Waterproofing and Finishing
18. Painting Job
What Is Building Construction Process?
This process refers to constructing the various parts of a building structure on a construction site. The building construction process includes stages such as planning, estimate, site survey and layout, excavation, substructure and superstructure, Electric and Plumbing work and finishing.
Process of Building Construction
1. Acquisition of Plot or land
2. Estimation & Budget
3. Hire a contractor or Builder
4. Site cleaning,
5. Levelling work,
6. Survey and Layout
7. Excavation
8. Substructure,
9. Plinth,
10. Superstructure
11. Masonry Work
12. Electrical and Plumbing
13. Door And Window Frames
14. Plaster
15. Finishing
What is the first step in the construction of a building?
Site cleaning and levelling are the first steps in the building's construction. Before beginning construction, the site where the structure of a building will be built should be prepared, including cutting and filling.
Also, Read
Standard Room Sizes And Their Location In Residential Building
House Construction Cost Calculator Excel Sheet
10 Best Cement Companies In India 2023
10 Best Tiles Companies In India 2023