Quality of Cement at Site
The service life of structures or homes is impacted by the low cement quality, which decreases the strength of concrete.
Construction with inferior cement ultimately resulted in a financial loss and occasionally harmed the homeowner's safety.
In this article, we will talk about how to check the quality of cement on a construction site.
This test can be easily completed by a regular person, who will then be able to determine if the cement is high-quality or not.
So let's start
Packing Date (MFG)
The manufacturer date should be seen on the cement bag. It is necessary because the strength of cement deteriorates with age.
Cement is a very fine powder that absorbs moisture from the air fast. A small amount of moisture content is always present in the air,
and when the cement bag absorbs this moisture, the initial setting occurs, and the cement gradually loses its strength.
The cement, when used after 1 year of its production, loses its strength by approximately 40 to 50% as compared to freshly produced cement.
When used after 6 months of production, cement loses approximately 30 to 40% of its strength;
Similarly, when used after 3 months of production, cement loses approximately 20 to 30% of its strength.
It is recommended that you always use cement bags within 3 months from the date of cement manufacturing.
Presence of Lumps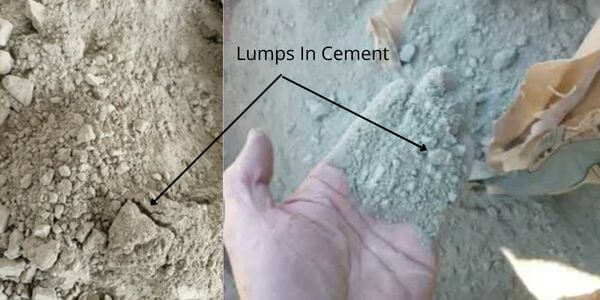 Check the cement inside the bag after opening it to make sure there are no lumps. When a bag of cement comes into touch with moisture, lumps are formed. The cement bag should be discarded if there are any lumps within.
Float Test
The cement's strength is decreased by the additional dust that is present in it. Place a small quantity of cement in a bucket of water to check for dust.
A high-quality cement will float on the water for a while before sinking. The presence of impurities in the cement, which shows its poor quality, is shown by the cement's immediate sinking. Concrete's strength will be diminished by such cement.
Colour Test
The amount of lime or clay and the degree of burning are indicated by the colour of the cement being used.
Check the cement's colour before using it on the construction site because cement often has a dark greenish-grey colour.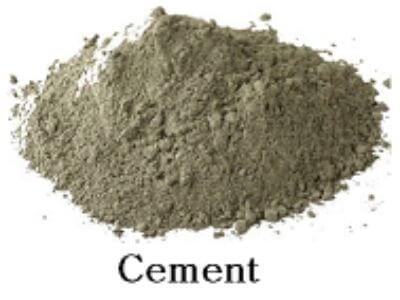 The light grey colour of the cement suggests that it might be an older variety or that moisture may be attacking it.
Temperature Test
When cement is in the bag it has a tendency to remain cool. That means when you touch it, it will feel cool, so place your hand inside the cement bag to check the temperature of the cement.
If it is cool inside, it is of satisfactory quality. If it is warm inside, it clearly shows that hydration is occurring and therefore it is of inferior quality.
Cement Adulteration Test
Adulteration is the process of lowering the quality of something by adding another material.
Because cement is made of an extremely fine substance, it feels smooth when rubbed between your fingertips.
Such cement is considered high-quality cement. However, if you experience grit or roughness, it signifies that the cement contains other materials like silt or sand, which could reduce its strength.
Odour Test
Clay or silt can also be detected by smelling the cement. If the cement is adulterated with too much clay and silt, the paste will smell earthy.
Shape Test
Take 100 grams of cement and add some water to prepare a stiff paste of it. Now make the cake with sharp edges of stiff cement paste and place it on a glass plate and slowly submerge it in a bucket.
The shape of the cake should not disturb while being transported to the bottom of the bucket. At the same time, the cake must retain its original shape while also setting and gaining strength.
Strength Test
Prepare a cement block of size 25 mm × 25 mm and 200 mm in length and submerge it in water for 7 days.
Now, set the immersed block on supports spaced 150 mm apart, and then add 340 Newton or 34 kg of weight. A block made of high-quality cement shouldn't display any signs of failure.
Final Words
I hope now you have enough information on how to check cement quality on site. If you find this knowledge worthwhile, please share it.
Thanks!
Also, Read
All Cement Price List Today In India 2022
10 Best Cement Companies In India 2022
Difference Between OPC and PPC Cement
Which Cement is best for house Construction?
Difference Between 33, 43 and 53 grade Cement
14 Types of Cement And Their Uses