Quality of steel
Low-quality steel has an effect on the service life of buildings or homes and reduces the strength of the structure.
Construction with subpar steel ultimately costs more money and occasionally puts the homeowner's safety in danger. This article will discuss how to evaluate steel quality on a construction site.
You can save money and prevent last-minute compromises by examining the quality of building materials before you begin construction.
Because TMT bars form the foundation of the construction, evaluating the quality of steel is critical from a safety standpoint.
Here is a simple checklist you may use to make sure you're buying the best TMT bar brand possible.
Essential Check Points
TMT bars must have an ISI certification and display the brand or manufacturer's name together with the ISI logo on the product.
You must have a chemical and physical test authenticity report from the producers.
Look for national certifications such as ASTM A706, ASTM A615, JIS G3109, JIS G3112, BS449, IS 1786 (HYSD) and IS 432(MS).
The TMT bars' distinctive rib design must meet the ISI criteria for concrete bond tests.
TMT Bars must pass the microstructure rings test to verify their hardness and strength.
Each TMT rod should be 12 metres in length.
Look for the manufacturer's licence because a manufacturer can only get one if they meet the strict safety requirements.
Purchasing only ISO and BIS-approved and certified products is advised.
Check to see if the TMT bars adhere to IS 1786:2008. It outlines the standards for reinforced steel's chemical composition.
The pitch distance between twists should be 8 to 12 times the standard bar diameter.
Each bar's diameter ought to be uniform and constant.
Upon receiving the order, the TMT should be clear of rust, grease, and paint.
Check the carbon level. No more than 0.25 per cent of carbon should be present in the bar. (IS 1786-1985 C-3.2)
Field Tests for TMT Steel Bar
You can do the following checks to ensure you buy high-quality TMT bars.
Bend Test
The bend test should be performed following IS 1599's instructions and using mandrels that meet IS 1786's size requirements.
The rebar sample should be bent 180 degrees, as IS 1599.
After bending the bar, look for cracks and ruptures that a person with normal or corrected eyesight may see on the bar's surface opposite the turned side (which acquired tension and extended due to bending).
The rebar satisfies the bend test standards if there are no signs of rupture or cracks.
Re-bend Test
Firstly, bend the bar so that it forms a 135° angle. Please immerse it in boiling water at 100°C for 30 minutes. Allow cooling for a few minutes after that.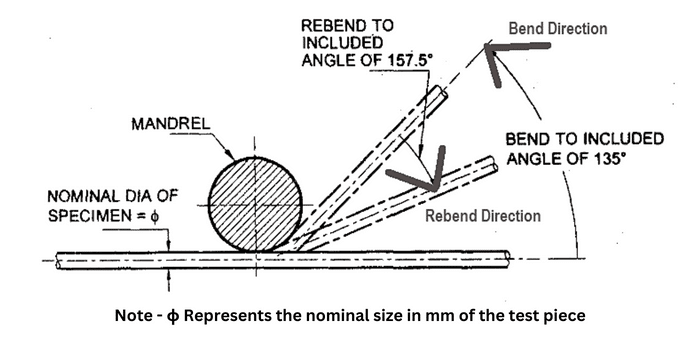 Bend it back to a 157.5° angle once it has cooled. Any rebar ruptures or cracks should not be visible to someone with normal or corrected vision.
The mandrel used for the Rebend test is specified in IS 1786.

Where ф is the nominal size of the test piece in mm.
Mass Per Meter Run
Cut the samples from several bundles of a minimum of four bars into 1-meter lengths.
Please average the height of cut bars across at least four sides to determine the bar's size.
Enter the bar's weight in the register after weighing it on the scale. Count three samples to get the average bar weight per meter.
The result is comparable to the theoretical weight defined in IS 1786. Verify whether the weight fluctuation falls within the acceptable range as stated in the IS specification.
The formula for the per-meter weight of steel bar
DxD/162 Kg/m
D = Bar diameter.
Also, Read - How to Calculate the Unit Weight of steel Bars?
Tolerance on Nominal Mass as per IS 1786
| Nominal Size (mm) | Tolerance of the Nominal Mass |
| --- | --- |
| Up to and Including 10 | ±7 |
| Over 10 up to and Including 16 | ±5 |
| Over 16 | ±3 |
After you have received acceptable results, you can consent to the steel for use in construction.
Continue to have steel tested by a third-party laboratory every 200 metric tonnes or whenever a new lot is received, whichever is more convenient for your management.
Lab Tests For TMT Steel Bars
Tensile Test
Yield Stress Test /0.2% Proof stress
Chemical Analysis Test
Elongation Test
I hope you now understand how to assess the steel's quality on a construction site. Please inform your friends if you believe they will benefit from this information.
Also, Read
How to check the quality of cement on site?
Which cement is best for house construction?
Which steel is best for house construction?
Building Construction Process Start to Finish.