What is Cinder Block?
A structural block that may be made out of a variety of materials is known as a "cinder block," a term that is both relatively antiquated and generic in nature.
"It is a lightweight brick produced from tiny cinders combined with sand and cement."
Allow us to understand what cinder block is, how it is often made, and the typical uses for it on construction sites before we move on to the specifics.
Cinder Block
Concrete blocks and cinder blocks are quite different. The same fundamental materials are used to make both concrete and cinder blocks, but cinder blocks include a unique key component designed specifically for various purposes.
Concrete is also used to make cinder blocks, however, either crushed stone or coal cinders are added to the mix.
Concrete blocks weigh more than cinder blocks. Open cells used in the creation of concrete and cinder blocks can be used to add more concrete or metal reinforcement for stronger construction.
When compared to cinder blocks, concrete blocks are far more strong. Cinder block use is officially mandated by some building codes for construction projects.
The rectangular, hollow cinder blocks, which are formed of concrete and coal cinders, are frequently used in construction sites.
Whereas concrete blocks are often two-dimensional constructions made of cement, steel, or wood.
Purpose
Cinder blocks are an affordable building construction material. These come in a range of shapes and are used for a variety of purposes, including:
To be employed as a safety measure.
To perfectly fix the doors and windows.
Maintaining CMU measurement.
To highlight the wall.
In order to improve the building's appearance.
Properties
Concrete typically produces particles that resemble coal cinders.
Compared to the latter, it is significantly lighter due to the proportion of the combined elements.
It's not very durable, so it's frequently avoided in various regions.
There are numerous items that can bow and buckle, and because repairs are frequently very expensive, they are avoided.
have been manufactured in factories for fifty years, making them almost obsolete.
Do not exert a great deal of strength
Different shapes or Types of Cinder Block
It is possible to create various cinder block varieties. Cinder blocks can be created based on architectural specifications or property owners' preferences. These are some of these prevalent types: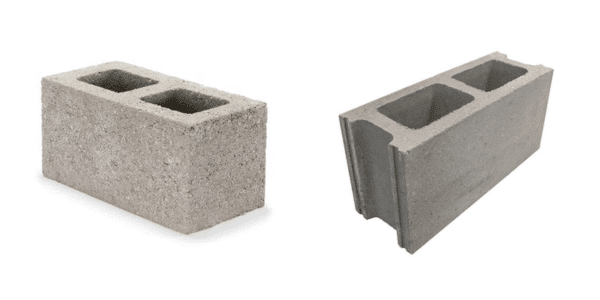 Standard grey
These blocks are strong and long-lasting, fulfill ASTM C-90 standards, are energy-efficient and reasonably priced, and have good soundproofing properties. The actual size is 7.625 inches x 7.625 inches x 15.625 inches, as opposed to common sizes like 8″ x 8″ x 16″.
Concrete deck blocks
Concrete deck blocks are a quick and affordable way to build a deck. The DIY client is the primary target market for this kind of block. Timber of any size can be used with deck blocks. There is no need to mix or pour concrete for footings in this block. Common size: 7 inches by 11 inches by 11 inches; exact size: 7.125 inches by 10 inches by 10 inches.
Cap concrete block
A cap concrete block is also referred to as a regular grey block. Additionally, it offers power and tenacity, is fire-resistant, and excels at soundproofing. Regular sizes include 4″ x 8″ x 16″, however, the true measurements are 3.625″ x 7.625″ x 15.625″.
Standard cored block
Large concrete walls for buildings, schools, and other structures are constructed using this kind of cinder block. Typical dimensions include 12″ x 8″ x 16″; actual dimensions are 11.625″ x 7.625″ x 15.625″.
Quikrete Concrete Deck Block
This kind of block is used to support decks and build structures quickly and with great stability. Typical dimensions include 10″ x 10″ x 10″; actual dimensions are 9.625″ x 9.625″ x 9.625″.
Cinder Block Dimensions as Per ASTM
Although cinder blocks come in different dimensions, the most typical sizes are 8″× 8″×16" (length×width×height).
Additionally, they are available in a range of densities, from lightweight, easy-to-work-with low-density blocks to robust, long-lasting high-density blocks.
In order to accommodate mortar joints, the cinder blocks in the half-CMU length of 8 inches are 3/8 inches shorter than the full-CMU length.
The nominal measurements used for door and window apertures refer to the module sizes used for the modular design and bond pattern style.
CMU defined by the three dimensions is frequently 3/8 inch (9.5 mm) shorter than nominal sizes, resulting in 3/8-inch (9.5 mm) mortar joints on a 4 or 8-inch (101.6 or 203 mm) module.
The figure below shows the nominal and specified dimensions of an 8 by 8 by 16-inch (203 by 203,406-mm) concrete masonry unit.
In addition to these standard sizes, nearby concrete masonry companies might also offer other unit heights, lengths, and thicknesses.
There are additional sizes for cinder blocks, including:
4″ x 8″ x 16″
6″ x 8″ x 16″
8″ x 8″ x 24″
12″ x 8 "x 16"
Wall Style of Cinder Block
Different forms of cinder block walls are possible. The building's construction work determines these types or styles.
Standard Size: A concrete masonry wall (CMW) is a common form of a block of this size. These blocks typically have dimensions of 8 x 8 x 16 inches. After accounting for the 3/8 masonry joints, the mortar required to hold the blocks together, and other factors, this equals an even 8″x8″x16″.
Half blocks: These blocks have the same height but a face length that is only half as long. The calculation yields 8x8x8 when the joint is removed. This type of block is typically used for single walls or the smooth wall at the conclusion of a structure.
Sash: Sash blocks are distinctive because they are used for casement windows and have a chisel carved into them. These are frequently utilized while building sheds. Half-blocks are sometimes referred to as sashes by contractors.
Rounded Corners: Bull-nose blocks are another name for rounded corners. Any of the block's corners or the entire structure can be rounded. They are beneficial for softening edges and preventing extreme, sharp corners.
Jamb joists: To complete the wall work, jamb joists are slotted for wooden-framed doors and windows. When building with cinder blocks, such as a shed, jamb joints are sometimes employed to create a gate or an ornamental opening.
Header: In order to complete the entire Wallwork, the header block is required for frames and support. Similar in size to normal blocks, header blocks have a top chiseled out for the concrete slab.
Capstones: Capstones are the last stone that is placed at the wall's top or building in order to safeguard it and signify that it is complete. They are typically flat and decorative. After including the mortar, the usual measurement is 4x8x16.
Advantages
There is no need to dress.
It doesn't weigh a lot.
Little expertise is required.
Its structural durability is greater than that of bricks.
The ability of smaller walls allows for the prospect of more carpet space.
It has fewer joints than smaller items given its size.
improved sound, moisture, and heat insulation.
The plastering is not necessary.
Using fewer mortar results in lower expenses.
Disadvantages
Seepage is a possibility.
Materials might not be suitable in every location.
Final Words
For various construction purposes, cinder blocks can be made in a variety of quite unique shapes. Because of their extreme adaptability, cinder blocks are a great choice for landscaping, events, storage, and building projects.
However, the most typical kind utilized in construction is cinder blocks. CMU is commonly employed in construction designs all around the world.
The majority of public and educational buildings are constructed using CMU, and while using CMU, workers construct cinder blocks to finish the wall by smoothing it from top to bottom
FAQs
What is Cinder Block?
It is a lightweight brick produced from tiny cinders combined with sand and cement.
What are the uses of cinder blocks?
A regular-sized rectangular block used in building construction is called a concrete masonry unit (CMU). It goes under several other names, including cinder block and breeze block. Buildings can be constructed in the traditional masonry style using levels (or courses) of staggered blocks using blockwork.
What differentiates cinder blocks from concrete blocks?
Cinder blocks are constructed using coal cinders with sand and cement. Concrete blocks are made with the use of steel, wood, and cement. Concrete blocks weigh more as compared to cinder blocks. Because it contains stone or sand, a concrete block is heavier.
What kind of material is cinder?
Cinder is a waste product produced as coal ash in power plants' blast furnaces.
Also, Read
What is CMU Wall? CMU Wall Construction|CMU Block|Cinder Block
10 Best Cement Companies In India 2023
10 Best Tile Companies In India 2023
18 Most Popular Types of Wood And Their Uses