Civil Engineering
Civil engineering is an expert engineering practice that acts towards designing, constructing, and shapes the world nearby us.
In addition, civil engineering is involved in the construction and maintenance of physically and naturally made environment, including public works like dams, bridges, roads, railways, pipelines, sewerage system, canals, buildings etc. It is among the oldest engineering disciplines.
A person who practices civil engineering that is designing, constructing, maintaining, application of planning is called a Civil Engineer.
Civil engineering is divided into several sub-disciplines. You can decide to specialise in a specific field such as
Transportation Engineering, Surveying, Structural Engineering, Environmental Engineering, Geotechnical Engineering, Water Resources Engineering, Construction Engineering, and Municipal and Urban Engineering.
Gain a summary of the engineering and construction sector and learn more further about jobs in engineering.
You will require various skills to get success in this competing industry, from conceptualising and creative problem solving to numeracy, IT, and good communication skills.
Getting a civil engineering job is tough enough for recent graduates, but it can be even harder if you are still in university.
This blog post will cover the process of building work experience during your first year as a university student and offer insight into the best ways to approach a job search early in your working life.
The Importance of Gaining Work Experience
The importance of gaining work experience early in your career is often overlooked. You can be successful without work experience, but it will likely take you longer to reach your goals and may require more risk or additional certifications in order to get the job that is right for you.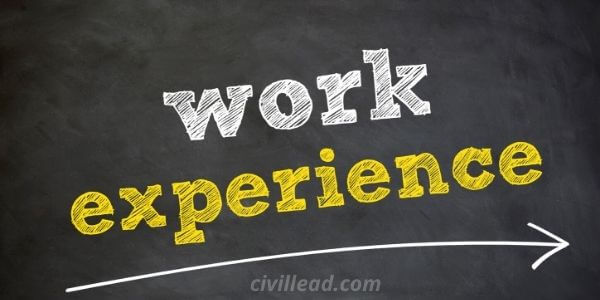 Work experience in an industry such as civil engineering is important due to the level of specialized knowledge that is required.
Building your network and using the resources available to you at schools such as student clubs or engineering associations is a great way to start building work experience while studying civil engineering.
But being in the industry will generally give you face to face interactions on a professional level that will be valuable later in life.
Preparing Yourself and what to include in your application
Getting yourself prepared for the application process can be as important as the interview and there are a number of things that you want to focus on
Setting up your LinkedIn profile and creating a professional email address is a good way to start off, with these becoming more important in the hiring process, especially if you're lacking industry experience.
Ensuring the content on your resume is accurate, concise but comprehensive and uses language that will be understood by employers is key.
Including references or at least two people who can attest to any extracurricular activities you have done both in and outside of civil engineering during university
Answering interview questions can be of equal importance and knowing which part of your experience refers to the work-related tasks you will be doing.
Personal experience such as internships gives valuable insight into how things are done in different contexts. It doesn't matter if it was paid or unpaid
How to Secure your Job Placement
The first step to securing your job placement is doing the necessary research. There are a number of tools that you can use, including LinkedIn and Careeronestop.com.
But it's important not to overlook offline methods such as directly contacting employers for openings or attending career fairs and networking events on campus.
The first step towards securing some form of work experience before graduation from university is to start by contacting your university's career services department.
They will have information on available internships, co-op opportunities and other work experience programs in engineering that you can take advantage of during the school year or summer break.
When moving forward with any form of civil engineering placement it's important to be proactive about your CV and resume.
This includes making sure it's up to date before you start reaching potential employers. You may also want to consider updating your LinkedIn profiles and any other professional based profiles you have.
The best way to find a job in civil engineering is through networking. Personal connections can often lead to great opportunities so make sure that you know at least one person on every interview panel or have someone else with your
Don't be afraid to ask for more information about what you will be doing and how much time would be spent on each task.
Make sure that the company has a good reputation, as this is not always an easy thing to find out initially. Look at websites like Glassdoor to give you an idea of how people have found working for the business to give you a good idea of the work environment-
There are a few things to keep an eye out for when looking for civil engineering placements and work experience opportunities such as looking for a salary or benefits in the initial contact as these will generally offer a better experience, and this is also where you should ask for a detailed explanation of work tasks and objectives.
A number of undergraduates end up doing mainly admin work or general tasks rather than actually gaining the experience they require.
One thing that people forget is when they don't get a placement or job, they rarely follow up with questions on how they can improve in the future.
Interviewers and companies are generally more than happy to talk to you about the interview and offer some feedback on your performance, which can be vital for future interviews.
What to take from your Work Experience
It is important to gain concrete experiences in the civil engineering field, so make sure that you are adding this information where possible to your online profiles .
Ultimately it doesn't matter what your title was or how many hours of work per week were involved – as long as there's a description of why and for whom you did each task.
One thing people forget about when they're looking for jobs is how their study skills will affect them during an interview process – do some research on these beforehand if necessary!
You may also want to take into consideration any volunteering experience you've had such as maintaining community gardens etc., which can be great material for interviews.
Final Words
I hope now you have important information about "How to secure a civil engineering job during your 1st year of university."
If you find this information valuable, please share it with your engineering friends.
Thanks!
Also, Read
Standard Room Sizes & Their Location In Residential Building
House Construction Cost Calculator Excel Sheet
Building Estimate In Excel – Importance, Preparation
Bar Bending Schedule (BBS) – Importance, Advantages, Preparation