What is Ferrocement?
Ferrocement is a composite material prepared by using closely spaced one or multiple layers of mesh and small diameter rods, which is entirely covered by cement mortar.
It is a highly versatile material with many engineering properties such as flexural strength, toughness, fatigue resistance, impact resistance, and crack resistance.
It was developed by an Italian Architect P.L.Nervi in 1940. Further, it is defined by ACI (American Concrete Institute) in 1980 in ACT- 549.
Properties of Ferrocement
Ferrocement is especially advantageous in a particular structure due to its lower cost and has excellent mechanical characteristics.
It has better durability than ordinary reinforced concrete.
Within a specific loading limit. It behaves as a homogeneous elastic material, and these limits are more comprehensive than standard concrete.
The uniform distribution and high surface area to volume ratio (specific surface) of its reinforcement result in a better crack arrest mechanism; that is, the propagation of cracks is arrested, resulting in high tensile strength of the material.
It is a very durable, cheap, and versatile material.
A low water-cement ratio produces an impenetrable structure.
Less shrinkage and low weight.
Better impact and punching shear resistance.
undergo large deformations before cracking or high deflection.
Material Required For Making Ferrocement
Mortar ( Cement Mortar)
Framework or Skeleton
Steel Mesh or fibre Mesh
Cement Mortar Mix
OPC and the fine aggregate mix can be used.
Sand cover 60 to 75% of the volume of the mortar.
Plasticizers and different admixtures
Mix Proportions
Mortar ratio = 1:5 to 2:5 (Cement : Sand)
Water-cement ratio = 0.35 to 0.60
Skeleton Steel 
6 to 8 mm steel rods can be used to form the structure's skeleton and used in the form of tied reinforcement or welded wire fabric.
Steel Mesh
MS wire of 2 to 6 mm dia at 100 to 150 mm interval in a grid form.
Chicken mesh (GI hexagonal mesh of 10 to 20 mm made of wire of 0.5 to 1 mm dia)
Welded wire mesh has a hexagonal or rectangular opening.
Construction Process
Fabrication of skeleton or framework
Tying steel mesh and rods
Applying Mortar
Curing
Uses of Ferrocement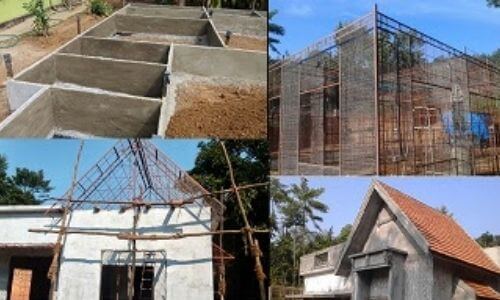 It saves cement and steel in the construction of structures, so it is used in residential buildings.
Ferrocement is utilized for making overhead water tanks for domestic purposes. The tank is lightweight and can be transported easily. The tank made with Ferrocement is cheaper than any other competitive materials. The tank can be made with hopper shaped bottom with a simple arrangement for drawing the grains.
It is a container that can be used in a gas holder unit in "Bio-Gas" plants.
Ferro cement tanks can also be used as septic tank units, but they require few changes.
It is an appropriate material for boat making.
It is used in the manufacturing of maintenance hole cover.
It is a favourite material for prefabricated roof systems.
For pressure pipes, it is an appropriate material
It is a good material for making benches for gardens, parks, and open-air theatre.
Advantages of Ferrocement
The structure made by the use of Ferro cement is of less thickness, which leads to a significant decrease in the self-weight of the structure; thus, foundation cost can be minimized. The use of Ferrocement provides a 30% decrease in dead, 15% saving in steel, and 10% in roof cost.
It is a suitable material for making precast units which are easy to transport.
Since its construction method is simple and therefore, it doesn't require highly skilled labour.
With the use of Ferrocement, elimination of formwork may possible wholly or partially.
In case of local damage due to abnormal loads (such as impact), Ferrocement construction is readily manageable to repairs.
Disadvantages of Ferrocemnt
Ferrocement construction is labour intensive, which makes it costlier for industrial applications.
The number of labour required for the construction of Ferrocement structure is high.
Structures built with it are susceptible to puncture due to collision with a sharp object.
Metal mesh or reinforcing material corrosion due to incomplete coverage of it by mortar.
Preparing framework is tedious and time-consuming, especially binding mesh and steel rods together.
Also, Read
14 Types of Cement and Their Uses
Difference Between Opc and PPC Cement
Difference Between Granite and Marble
MDF vs Particle Board – Difference Between MDF and Particle Board