What is WPC Boards?
WPC boards are the best alternative for natural wood, as well as plywood. WPC Boards are the get over of the entire problem faced with the plywood.
WPC boards have more internal strength, weight and above all and no trees are cut in their production. So, let us understand the composition of WPC boards.
The long-form of WPC is wood plastic composite boards in terms of percentage it comprises 70% of virgin polymer, 15% of wood powder and the remaining 15% of the additive-chemical.
Sizes available in WPC Boards
It is available in the size of 8'× 4′. The thickness of boards is 5 mm, 6 mm, 8 mm, 10 mm, 12 mm, 15 mm, 17 mm, 18 mm, 20 mm, 25 mm. The density of the WPC board is 600 kg/cm3.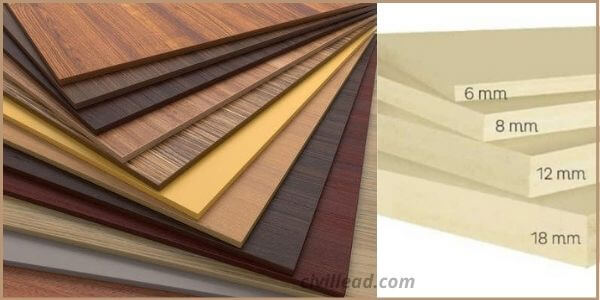 Advantages of WPC boards
1. WPC boards are 100% termite proof and waterproof. Which means they are a durable product. Some of the vendors give a lifetime guarantee on the product when it comes to being waterproof shades and termite-proof boards.
2. WPC do not corrode and are highly resistant to rot, decay and marine borer attack. Thou they do absorb water into the wood fibre embedded in the material. 
3. WPC board does not require painting, staining and oiling and it avoids using potentially polluting preservatives but if you want to Duco paint or texture paint you can do it, only the thing is first you have to apply PVC primer on the board.
4. You can cut any design on WPC boards with a CNC router. Finishing of WPC grill (jali) is better than MDF and stronger also.
5. As per the requirement and need, It can be moulded into different shapes and sizes. Due to this, it can be used for making designer doors and windows which will give you a rich look and fine polishing.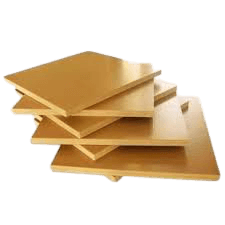 6. It is a polymer-based product. it is self-extinguishing and doesn't ignite the fire when in touch with a fire source.
7. It is a fire retardant material. It does not help the fire to get spread. it does not burn with a flame. Whereas plywood support fire to spread because it burns with flame. So WPC is a better option when you choose a panel for the fire-prone area.
8. Eco-Friendly – They are free of formaldehyde, lead, methanol, urea and other hazardous chemicals. This harmful volatile chemical enters the human body through contact and inhalation and causes a serious health-related problem.
Especially in children and elder people. WPC is 100% VOC free and also it does not emit formaldehyde in the atmosphere.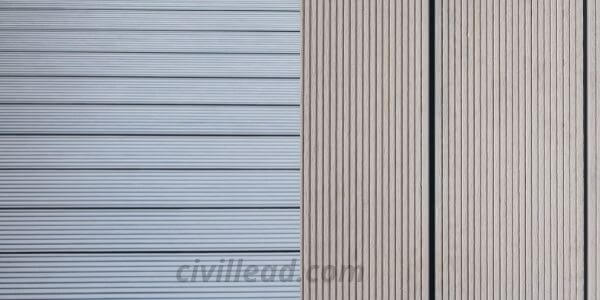 No trees are cut in their making, which means they are environment-friendly products leading to a green revolution. It is manufactured with rice /wheat husk and virgin thermoplastics.
It is made up of recycled plastic and waste wood hence it is a sustainable and green material. It comes with guaranteed quality which consists of the modifier, foaming agents, stabilizers and various elements that are mixed in specific and strict ratios.
Also, Read - House Construction Cost Calculator Excel Sheet
9. Laminate or veneer can be pasted on the WPC board with the help of Fevicol Heatx adhesive. The surface of the WPC board should be rubbed with 80 no. sandpaper for proper bonding.
If you want more thickness two WPC boards can be jointed with the help of cement solvent or PVC solvent. For covering, the edge of WPC boards PVC edge banding taps can be used.
10. All types of screws and nails can be easily nailed with the help of a conventional tool. WPC boards have better screw and nail holding capacity than plywood.
Even you can screw and unscrew at the same position more than 10 times. It does not get loose.
11. It will not rot, crack, warp like other timber used for interior and furniture making. You can use WPC boards in sunlight, it does not get spoiled in sunlight.
You have to just paint or polish it after certain time intervals and it will remain new and strong for years. You can use weather coat paint and PO polish on WPC. Also, it is maintenance-free material.
Also, Read - Standard Room Sizes & Their Location In Residential Building
Disadvantages of WPC Boards
The resistance of WPC to extreme temperature is low as compared to wood. If you put kitchen utensils directly on WPC boards it will cause a melting impression if the temperature is more than 70°C.
The laser cutter cannot be used on WPC boards as it will burn the boards.
It contains a plastic polymer and wood fibres so the shortcoming of both this material will be present in it.
The cost of WPC material is higher as compared to other material used for the same purpose.
It lacks the natural wooden texture due to which the feeling of natural wood is missing.
Uses and Applications of WPC Boards
WPC boards can be used in interior applications, exterior applications and for advertisement.
In interior application, WPC boards can be used in modular kitchen, home & office furniture, wall panelling, ceiling solution, wardrobes, industrial section, control cabinets& panels, bathroom cabinets, window & doors frame and railing.
In exterior applications, WPC boards can be used in constructions/ shuttering boards, exterior wall cladding, garden furniture, park benches & fencing, prefabrication house, other exterior applications, outdoor deck flooring.
For advertisement WPC boards can be used in signboards, display boards, direct digital printing, exhibitions stands & graphics.
Also, Read - Difference Between Ceramic and Vitrified Tiles 
Price of WPC Boards
For the 18 mm thickness of the WPC board, the rate will be approximately 95/- per sqft. The rate depends on density, thickness, brands & location.
WPC boards is now an emerging material that is modern and long-lasting. Replacing the traditional construction materials due to their strength, modern design and many more characteristics.
Conclusion
So, friends, this is the complete information about WPC Boards. I have tried to cover all the topics related to it. If I have missed any information, you can mention it in the comment section.
If you found this information helpful please don't forget to share it with your friends.
Thanks!
Also, read
10 Best Cement Companies In India 2021
What is ACP? Definition, Advantages, Disadvantages.
UPVC Windows Vs Aluminium Windows Vs Wooden Windows
Emulsion Paint vs Oil Based Paint
8 Types of Stairs, Flight of Stairs
What is Plinth Beam? – Plinth Protection, Difference Between Plinth Beam and Tie Beam