12 Tips To Make Your Outdoor Space Comfortable
Nowadays, outdoor living spaces are all the rage, and it's easy to see why. From spending fun times around the fire pit to dining al fresco, having an inviting outdoor space can help you enjoy the outdoors to the fullest, especially during summer.
Regardless of how average your outdoor space looks at the moment, there's no shortage of ways you can transform it into a cozy and inviting oasis.
Aside from investing in residential patio misting, here are a few straightforward touches you can look into:
Tip #01: Add pattern and color using textiles.
Create a bespoke patio or deck using weather-resistant textiles that add style and softness to your space. Pick a color scheme, then add outdoor pillows of various patterns and sizes.
It would also be best to go for fabrics that are easy to clean, dry quickly, and resist UV rays. To add more pattern and color, use a trendy outdoor rug to anchor your seating area.
Tip #02: Create a spot for lounging.
Apart from ensuring you have an excellent place for entertaining and dining, ensuring you have a relaxing space is also crucial.
When strung up between decks, posts, or trees, a hammock can be a welcome addition.
Investing in a chaise lounge is also recommended if you are into sunbathing. You can also lounge around with your favorite book.
Boost comfort by adding plenty of outdoor cushions and pillows.
Tip #03: Use plants to create a lush space.
If you want to create a lush space, you can never go wrong with adding some greenery. Use plant containers and pick some eye-catching plants and arrange them near seating areas as living decors.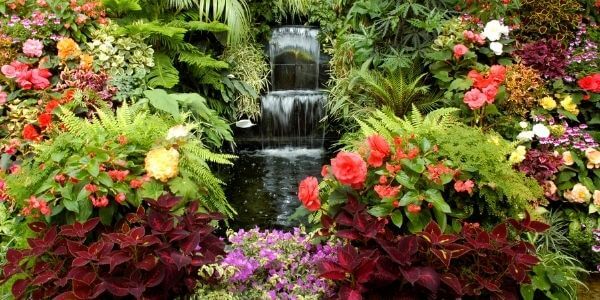 You can also use shallow planters filled with succulents as a centerpiece for your outdoor tables.
Plants with full leaves and tall stems can also act as privacy screens given that it's appropriately placed.
Tip #04: Invest in outdoor lighting.
After the sun sets, you can still enjoy your backyard oasis by adding outdoor lighting. You can start with porch lights that will provide ambient lighting and illuminate access to your house, for starters.
If you have an outdoor kitchen, it would be good to ensure good task lighting over the work areas and grill. For conversation and dining areas, dimmable electric lamps and candlelight would be great additions.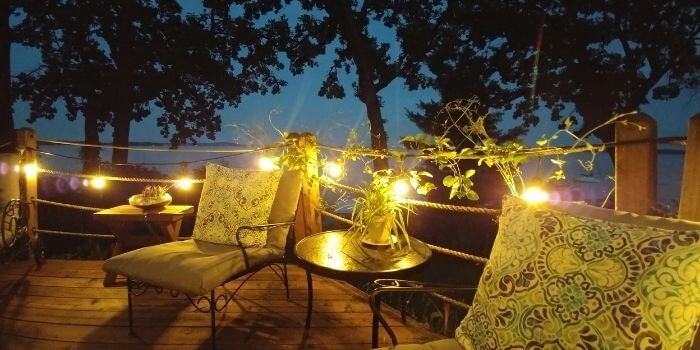 For safety reasons, walkways and steps should also be illuminated. Investing in low-voltage lights or solar-powered accent lights is also recommended if you want to add some interest and drama to your landscape and outdoor space.
Adding solar lights is also a great idea as you can easily add them to any space without worrying about wires or plugs. Festoon lights are also great as they can be left out all year round. Talk about minimum effort but maximum impact!
Combining different lighting sources can also help turn your backyard into a magical space after the sunsets.
Tip #05: Create a few shady spots.
In the heat of summer, even the most ardent sun worshippers would welcome some shade. On hot and bright days, a deck or patio can help give you and your guests some much-needed relief from the sun.
Other great options that can provide shade include mature trees, patio umbrellas, pergolas and arbors with vines, and retractable awnings. Pick the option that will best suit your budget and space.
Tip #06: Define your space outdoors.
To create a versatile backyard destination, start by defining various activity zones within the space.
For instance, you can use some trendy outdoor furniture to carve out spaces for relaxing and dining.
You can also amplify the look of your garden by having luxurious vines surround your pergola. Plants in containers can also help effectively blend your structure into the landscape.
Tip #07: Create a picture-perfect patio.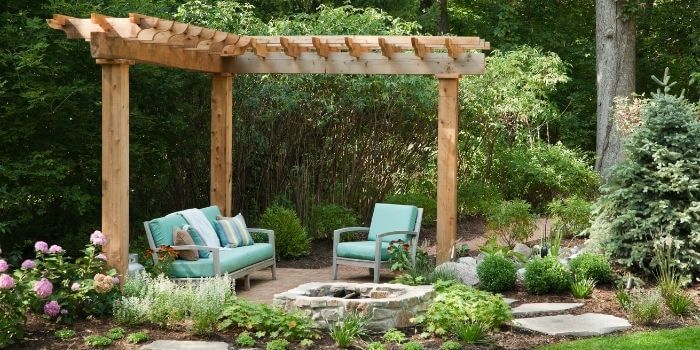 A patio is a welcoming extension of any space and can help you enjoy the fresh air and cool breeze.
With some planning and a little creativity is thrown in, you can quickly turn your existing patio into a stunning and cozy seasonal space.
Consider using container gardens, planting beds, and weatherproof furniture if you want to take your patio decoration a notch higher.
Tip #08: Add an outdoor kitchen.
If you love cooking, grilling, and eating outdoors, adding an outdoor kitchen is something you should look into.
Contrary to popular belief, you don't need a fancy expensive grill to create a memorable cooking experience.
Ensure you have a countertop to prepare the food and a separate side burner, and you are good to go.
You can also add a sink and refrigerator to ensure the preparation and cleanup goes smoothly.
Tip #09: Ensure your space has some privacy.
Your outdoor space can feel even more like an oasis if it offers some much-needed privacy. Garden walls and fences can help ensure privacy for your decks and patios. However, you can also use pergolas and lattice.
You can also use landscaping to screen views and define outdoor spaces. Hanging outdoor curtains is also considered an inexpensive, quick, and attractive way to boost your privacy.
Tip #10: Use furnishings that enhance comfort.
When it comes to furnishing your outdoor space, you would be delighted to know there is no shortage of attractive options available at your disposal.
Some great outdoor furniture options include cast and wrought iron and traditional wood.
Weatherproof and synthetic patio and fabric can also mimic the comfort and style of your interior furnishings.
Nowadays, you also have access to a weatherproof table and floor lamps that combine durability and style.
Tip #11: Use structures to define outdoor spaces.
If you want your outdoor space to exude an air of luxury, consider adding a gazebo. Whether set near a pool, attached to your deck, or planted in your landscape, a gazebo provides a great spot for relaxing, dining, and socializing.
You can also use arbors, pergolas, and trellises to clearly define your outdoor paradise's activity zones.
Use them to separate areas based on function or to create specific focal points. You can also use them to provide transitions from one place of your outdoor to another.
Tip #12: Add some artistic elements.
Statues, fountains, and some fine art can surely take the appeal of your outdoor space to the next level.
If you love listening to the relaxing sound of trickling water, use a fountain as your yard's focal point.
You can also accessorize your outdoor space with weatherproof art like garden plaques, plates, and decorative wrought iron.
While simple said, ornamental touches could help create a personalized and welcoming outdoor space.
Final Thought
Regardless of size, your outdoor space can be a source of refuge and relaxation—a place where you can escape when you want to relax, unwind, and have fun.
The bottom line? Make sure to amp up the cozy factor to your outdoor space can feel like an extension of your home.
Also, Read
Standard Room Sizes & Their Location In Residential Building
8 – Types of Stairs, Flight of Stairs
What is an HVAC System? How Does it Work?
Plumbing Trap – Purpose, 15 Types of Plumbing Traps
Parapet Wall – Purpose, Types & Uses