Creative Ways to Cover The Hairline Cracks in Your Wall
Hairline cracks on walls can occur in diverse places. While filling them up at once might seem costly to you.
Hence, get creative to hide out the cracks while decorating your room. This article discusses creative ways to cover the hairline cracks in your wall.
Like, you could use decorative wallpaper to hide cracks. In addition, you can use a mirror, clock, paper craft, or DIY wood decorations, or even put up paintings to cover the wall cracks.
Amazing and Creative Ways to Cover The Hairline Cracks in Your House
Let's talk about some creative ways to cover hairline cracks. These are one of the proven and good-looking solutions to have. Go through each of them and check which would look good for your home. Let's get in.
Use Designer Wallpaper
No doubt, designer wallpapers are a great solution to hide hairline cracks. Applying the wallpaper lets you even out the surface. No one would even identify the place of the hairline crack.
More so, you could use textured wallpaper. These are special types of wallpaper use raised texture to hide the hairline cracks.
You could even paint your favorite wallpaper. In short, wallpaper is the easiest solution to go for.
Use Wood Decorations
Countless wood decorations are available for you to place on the wall. The wood craft pieces are trendy yet give you a relaxing vibe in the house.
Place the wood decoration and crafts over the hairline cracks on the wall. It would be seamless, and no one would notice at all.
Creating these DIY wood decorations is a great idea for any craft lover. You could follow the ePoxy on Wood guide to create stunning pieces. Hence, these decorations will make you proud whenever you look through them.
Hang Mirror Piece
Mirror pieces come in different shapes and sizes. Go to any decoration shop and find the ones that suit you best.
Hence, consider the hairline crack and size before buying a mirror piece. After purchasing the mirror, hang it on the hairline crack.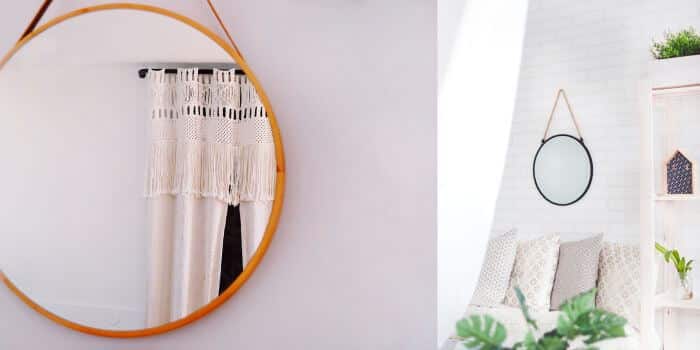 Most of all, the mirror hides the crack stylishly. It adds more style to your home interior. More so, adding a mirror makes your room look bigger as well.
This is why setting up mirror pieces on the wall is a cool way to deal with hairline crack issues.
Use Stylish Font Quote
Why not paint some motivational quotes on the wall crack? Or you could buy out framed stylish font quotes.
Either way, you go; it's a great way to decorate your room. The quotes could be anything that gives you positive vibes and motives in life.
Ensure the painting or frame is big enough to cover the hairline crack. It should hide the cracks perfectly.
You could hire some experts with calligraphy and wall painting simultaneously for painting.
Use Clock
Tall and standing clocks are a great way to cover up a vertical wall crack. These clocks might seem vintage, but they give you a traditional look to your interior. However, you could go for standing cocks with a new-age design as well.
On the other hand, rounded clocks are great for smaller wall cracks. Place them in a strategic way that covers out the entire wall crack.
Hence, having a clock around will serve as a multipurpose solution to hide your wall cracks.
Use Papercraft
Adding Paper crafts can be a temporary but interesting idea to hide out the cracks. You could do it yourself or request your kids to make one.
Perhaps, crafts like paper birds, sheep, and stars would do the work. You could stick the paper craft to the hairline crack using glue or tape.
Hence, the papercraft might get damaged after using it for a while. You must create a new craft and add to the place once it's done.
Hence, keep an eye on the papercraft for better maintenance of these precious crafts on the wall.
Place Furniture
Adding furniture to the room and placing it on the wall crack is the convenient way to go. Because with the furniture you get to enhance the interior of the room. Furniture such as the bookshelf, cabinet, and reading table are great examples to use.
Moreover, make sure the furniture is covering the entire wall crack. Select the size and shape according to the cracks on the wall.
Going for the perfect furniture will help you to decorate the room and hide the cracks at the same time.
Frame Images
You might have images of a childhood sitting around, why not frame them up? You could add a bunch of framed images on a particular wall with cracks. In fact, you could create a hall of fame or "wall of memory" on a particular wall. It looks trendy yet reminds you of the past.
In case you are not interested in setting up a bunch of photos, place a big image. Or it could be a framed painting that is big enough.
Having the frames will hide out the cracks super fast. Hence, no one's going to notice the cracks as they will be more likely to get attracted to images.
Use Wall Panels
Wall panels come with a lot of variety and design. Most of them are made out of wood or other materials.
Most of them are great to hide hairline cracks. In fact, you get to decorate the wall and add extra lighting around it.
It creates a surreal feeling in your room. It's so versatile you could implement it in your workplaces as well.
They look ultra-modern and transform a room right away. This is why you should try them out on your hairline cracked wall.
Create Art With It
Have a paint and brush to start creating art. The main purpose of the art will be to hide the hairline cracks.
As these cracks have artistic vibes, you could utilize them. It's simple and gives your room a creative aspect.
Hence, doing black and gray art would be the most appropriate option. Or you could draw up a tree or forest around the hairline crack.
Believe it or not, creating one on the wall is so relaxing and rewarding. Dot it yourself, or you could have your artist friend at home.
Indoor Plants
Having indoor plants and placing them right in front of the hairline crack is a great idea. In addition, you could have small cacti on shelf-style furniture to hide the cracks.
Indoor plants are a great way to improve indoor air quality and fill it with more oxygen.
You have a variety of indoor plants to choose from. Like, Anthurium, Snake Plants, and Pothos are great indoor plants.
They even soak out any odor from your wall and the surrounding area. In short, it's a green way to hide the wall cracks. Give it a solid try.
Why Do Hairline Cracks Happen?
You could have various reasons to get hairline cracks. But most of all, low-quality paint is the real cause of the cracks. As the low-quality paints start getting older, it reveals the cracks on the surface.
In addition, you could avoid it by going for more robust wall paint. Make sure you buy out the paint with a higher adhesion formula.
As the paint sticks to the surface, it won't leave any cracks at all. Meanwhile, sometimes it is also caused by the expansion and contraction of the soil beneath your house.
How to Fix Hairline Cracks?
First off, you need to fill out the cracks. You could use either concrete or water-based paints.
Once you fill it out, scrape off the extra bit of filling. Once the crack is not visible, use primer or sealant on top.
After you add the sealant, paint out the crack area with the same paint color as the surrounding. Let it dry.
After a while, the crack would get fixed right away. Do the same for the rest of the cracks.
Conclusion
Now it's time to end the roundup of creative ways to cover the hairline cracks in your wall. Always be creative with these wall cracks.
Hide them out in a genius way. But most of all, these are only temporary solutions. You must fix them.
Make sure to use more effective paint to fill out these cracks. It makes sure it does not occur again on your wall.
FAQs
Let's talk about the frequently asked questions.
What Paint Will Hide Cracks?
Among all other paints, ceiling paint is the best option to hide cracks among all other paints. These paints have higher viscosity which helps them to stick to their place. Perhaps, cracks filled with the mentioned paint will stay in their place and avoid getting any sort of cracks at all.
How Do You Permanently Seal Cracks In Walls?
Using the mesh joint tape and paper tape on the crack will be the best option because it works great with a joint compound on top of it. It's most likely to be stronger than any other sealing technique at the same time.
How To Cover Large Cracks in Walls?
At first, you need to enlarge the existing gap a bit to start adding the filler. Hence, using the crack filler compound is the best option in large cracks. You will get them at any local hardware store. Don't forget to add a double coating above the crack. At last, even out the surface and point it out. Let it dry, and the crack is gone.
Also, Read
5 Essential Factor To Consider When Building A House
House Construction Cost Calculator Excel Sheet