Difference Between a Contractor and a Construction Company
A construction company is an independent business that takes on construction projects because it has the necessary knowledge and experience in the industry.
A contractor, on the other hand, maybe an independent worker or an employee of a construction company.
A contractor is a person or business that is contracted to supply the necessary labor, resources, and infrastructure for a project to be completed successfully.
Contractors evaluate the architect's plans and utilize them to create a bid package based on their estimate of the project's total price.
Property Renovations and Construction, LLC states that contractors can supply not just labor, but also materials, tools, and services crucial to the completion of a construction project. Keep reading to learn more.
What Are the Benefits of Hiring a Construction Company?
Depending on the scope of your project, you may be wondering whether it is beneficial to hire a construction company and what they would bring to the table.
If so, you should know some benefits that a construction company may provide. Here are just some of them.
The costs associated with the project will be accurately estimated and quoted to you.
You can optimize your time by allowing the construction company to take care of the management of the project, including delivery of all materials, acquisition of required permits, and contacts with a network of subcontractors.
You can have confidence that your project will be in the hands of licensed and skilled experts who are able to deliver the quality job you expect.
You can rest assured that every aspect of your building project, from the blueprints to the last touches, will be handled with the utmost care and consideration.
You can forget about stress and hassles when you know that your project will be carried out by professionals.
Are There Any Drawbacks to Hiring a Construction Company?
There may be some drawbacks to working with a construction company, such as the fact that you may feel as though you have less control of the design and construction process, or
you may feel that you have lost any flexibility should you change your mind because the construction company may not allow any changes once contracts have been signed and schedules agreed upon.
However, you may avoid those potential issues by taking the time to research the construction company before hiring them. Check their credentials, references, portfolio, and reputation before signing a contract.
Once you decide on the company you feel comfortable with, negotiate a clear and detailed document in which the budget, quality standards, payment terms, and timelines are clearly spelled out.
Ultimately, you may decide that you want to work with a general contractor instead of going with a construction company.
What Are the Benefits of Hiring a Contractor?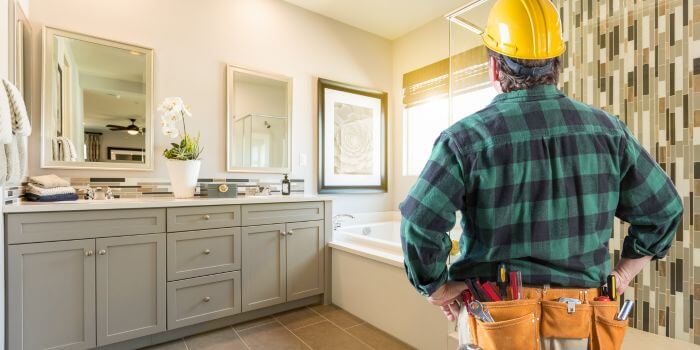 The responsibilities of a general contractor include overseeing the construction project from beginning to end, hiring and managing all subcontractors that come into the project to install the roof, electrical and HVAC systems, plumbing, and more.
It is also up to them to get all necessary permits and inspections for the project, provide or get someone to provide all materials, equipment, and labor related to the project, and ensure that the construction is completed on time and within budget, following all specifications.
It is up to the general contractor to establish good communication between the client and the architect or designer so that all parties are on the same page when it comes to the details of the project.
Whenever issues arise, the general contractor is in charge of finding the appropriate solution so that the project can continue moving forward and is finished according to the pre-set timeline.
Would a General Contractor Cost Less Than a Construction Company?
It is impossible to know whether one or the other would be cheaper since every project is unique with specific characteristics.
You may have to decide on one versus the other depending on the scope of the job, the complexity of the structure that you need to have built, the location of the project, the materials and labor that will go into it, and more.
In some situations, contractors may charge less, particularly if the project is smaller and simpler and does not call for multiple subcontractors or permits.
On the other hand, if the project is too large and complex, a general contractor may charge more since they may be required to outsource specialized skills or equipment that they do not possess and which may be a part of a construction company.
In other cases, the final price tag may be the same regardless of the course of action you take.
If so, you should look into what each one of them can offer and how comfortable you feel with the way one or the other presents the project to you, and how they respond to your doubts and needs.
To be on the safe side, it may be worth your time to request and review several bids from different construction professionals and evaluate them based on what they offer. This could be value, quality, or general suitability for the project that you have in mind.
Making the Right Selection for Your Construction Project
Deciding whether to go for a construction company or a contractor can be a challenging task, but making the right selection can make a big difference in the end result.
Start your search by having a detailed plan of what you expect from the project and what you want to achieve, including the quality standards, budget, and timeline.
Be well informed on the current costs of labor and materials in your area and request different bids from different construction companies and contractors.
Make it a point to interview at least a couple of each to evaluate their relevant experience, licensing, insurance, and safety records, as well as if they understand your objectives and goals.
Once you decide upon the ideal candidate, make sure to sign a contract in which all ground rules are specified.
Also, all questions related to financing and payments should be fully spelled out, and all channels of communication should be understood by all parties.
You will likely have to give a deposit upon signing the contract, but should also keep in mind that unexpected costs may arise, so plan to have some extra funding should that become a reality.
Also, Read
Labor Contract Vs Material Contract – Which is Better?
Building Construction Process Step By Step
House Construction Cost Calculator Excel Sheet
Building Inspections: 5 Tips for Landlords and Home Buyers