Double Charge Vitrified Tiles
Right flooring options for a commercial space can make it safe and appealing for consumers and visitors.
Vitrified tiles make the job of providing a lasting finish for the floor and walls of a commercial space much easier.
The high durability, design and colour variations, modular size and standard installation techniques make tiles a preferable choice for floor and wall décor.
Double-charged vitrified tiles are touted as the best solution for floor tiling of a commercial space receiving high foot traffic. Here's why and how you can choose the best DCVTs for different commercial spaces.
What are Double Charge Vitrified Tiles?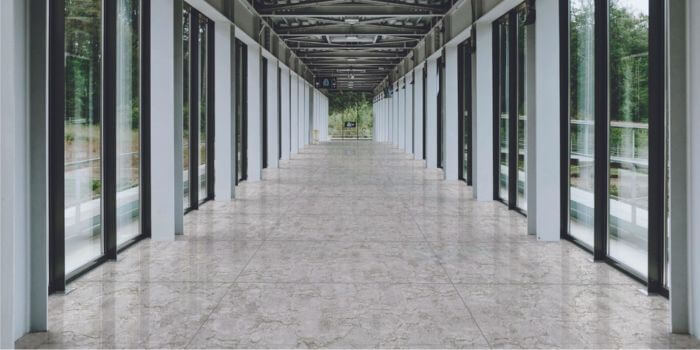 Double-charge vitrified tiles are a version of vitrified tiles with a thick layer of colour coating. The colours are infused on the top surface of the tiles directly.
The tile is often called double-charge or multi-charge based on the number of colour pigments used. Most leading tile brands offer double-charge tiles infused with dual colour pigments.
The thick layer of colour coating, usually 3-4mm, allows the tile to bear minor scratches and surface damages without visible signs of wear.
Thus, recommended for high-footfall areas like retail stores, hotel lobbies, malls, etc.
Why Double Charge Vitrified Tiles for Commercial Spaces?
Commercial spaces usually face semi-controlled footfall, which can wear off the top layer of the tiles faster.
Double-charged vitrified tiles can last much longer than glazed vitrified or other floor tiles while maintaining the look.
Thus, you can avoid regular repair and replacement of tiles and the tile bases peeking out of the design layer with double-charged vitrified tiles.
Also, the surface hardness of double-charged vitrified tiles is higher than glazed vitrified and polished glazed vitrified tiles. That means the double-charge tile can handle harsher punishment than GVTs.
Only, full-body vitrified tiles fare better than double-charge tiles in terms of surface hardness and scratch resistance as their entire body is infused with the colour.
However, full-body vitrified tiles are pricier than double-charged tiles. But, double charge tiles can outlast even the full body tiles due to their stronger overall body and a thick layer of colour pigments.
Where to Install Tiles in a Commercial Space?
The installation spaces depend completely on your design requirements and your budget. You can consider the following spaces for tile installation:
Floor
Counter
Walls
Front elevation of the store
These are the common tiling areas for any commercial space including retail stores and malls.
Other than these, staircases, and steps should also be considered for tiling. You can use full-body vitrified tiles for staircases.
Tile producers like H&R Johnson offer step tiles with production cut grooves and tread lines.
Thus, step tiles do not need onsite adjustments and grooving as they are already cut to size and grooved with anti-skid tread lines.
How to Choose the Vitrified Tiles?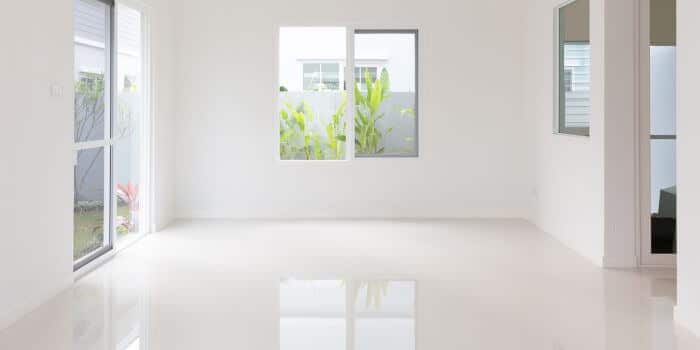 Selecting the best double-charge vitrified tiles requires a methodical approach to selecting tiles. You can follow the steps below to find the best vitrified tiles for your store or office:
Budget plays an important role as you should avoid compromising quality for something as essential as tiles.
The best way to reduce your budget with tile is to limit the installation to critical areas and then move up to other areas.
For example, the space under the racks can be covered and remain hidden. The space behind the rack and display areas can be covered using posters and wall paints.
The space where customers will walk or the exposed floor areas within the store should be tiled first.
The colours of double-charged vitrified tile designs are quite uniform but with little variations and sprinkles of other shades.
This type of pattern makes it easy to pick up the appropriate colour for the floor and walls in a store.
If you are creating a display area, you want the focus to remain on the objects rather than the wall or floor designs.
Thus, darker shades like Almaze Charcoal, Albiza Nero, and Altis Black styles from the H&R Johnson Marbonite collection can do well to create the environment.
You can pick up brighter colours as per the environmental needs, and interior theme of the store or office.
The Most Appropriate Size
The tile size depends on the space available in the store or office. The sizes of floor tiles and wall tiles can be different. Larger tiles will need large flat surfaces for minimal installation efforts.
Plan for a tile size for minimal wastage. One way to achieve this is to measure the floor and wall area and see which tile size fits perfectly with minimum fractional value.
For example, 60x60cm tiles are preferable for a 10×10 feet room, but not for 13×9 feet space.
Double-charge vitrified tiles are notoriously low on pattern and design variety. This is due to the colour infusion limitations.
Unlike glazed vitrified tiles that are digitally printed, the patterns on double-charged tiles are created when the colour pigments are pressed on the tile's surface.
This gives the tiles uneven patterns like marble and granite. However, the patterns are not controlled for specific designs.
So, you need to focus more on the colour shades of the double-charge tiles rather than the design.
What Should be the Surface Finish?
The double-charge vitrified tiles are available only in a glossy polished finish. However, you can use alternatives like full-body vitrified tiles or industrial glazed vitrified tiles, such as Max-Grip tiles from H&R Johnson, for a matte finish floor.
However, glossy tiles create a premium appearance for a commercial space. So, unless visitor safety and slip resistance are a concern, polished tiles should be your first choice for commercial spaces.
How to Buy Vitrified Tiles & Double Charge Tiles?
You should explore the tile catalogues and manufacturer websites to learn about the vitrified and double-charge vitrified tiles.
The most important part of purchasing tiles is to verify the quality standards. You can check or test the quality standards like measurement errors, flatness, surface hardness, etc. if you know what to look for in these tiles.
The best vitrified tile manufacturers in India declare the values for the surface quality, mechanical strength, water absorption, etc., for the tiles.
These values can help you determine whether the tiles under a portfolio will suit your commercial space demands. You can also consult a tile expert at the manufacturers before buying.
Also, Read
16 Differences Between Ceramic And Vitrified Tiles
10 Best Tiles Companies In India 2023
Difference Between Veneer And Laminates
What is WPC boards? – Advantages, Disadvantages & Uses