Best Tiles Companies In India
Flooring is a core part of our home, office, and shop interior. It is the prime appeal when someone enters your home, and tiles have a vital role in the flooring of our home.
Your home shows who you are and describes your viewpoint toward life. Hence, it is essential to furnish your home with the Best Tiles Brands in India to perfect your home's aesthetic.
China is the world's biggest country of ceramic tiles manufacturers, consumers, and exporters.
It was the leading ceramic tiles manufacturer globally, producing approximately 5.2 billion square meters of ceramic tiles in 2019.
At the same time, India was the second-biggest producer, producing around 1.27 billion square meters that year.
Several companies are present in the market, and they often confuse the buyer while making a choice. Hence it becomes tough to make the final choice.
As I stated above, tile is one of the vital building materials. People who want to build their houses are looking for the best tiles brand because they know that tiles play a vital role in the beauty of their homes.
So in this post, we are sharing a list of the best tiles companies in India. You can choose any tile brand because they are recognized growing brands in the tiles business and deliver quality products to the consumer.
You can go with any tile brand listed below, which allows your budget because they all are the best in quality.
They may have the only price difference. You can select any tile brand mentioned below as per your budget and brand presence in your locality.
So now, let's explore the best tiles companies in India.
So, Let's Begin
10 Best Tiles Companies In India As Per Market Cap December 2022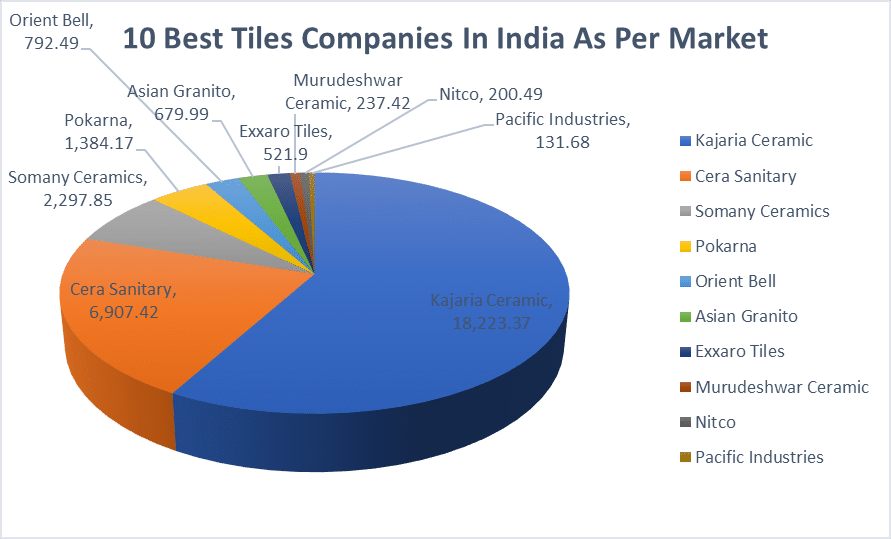 | S.No. | Tiles Company | Market Cap In Cr |
| --- | --- | --- |
| 1 | Kajaria Ceramics | 18,223.37 |
| 2 | Cera Sanitary | 6,907.42 |
| 3 | Somany Ceramics | 2,297.85 |
| 4 | Pokarna | 1,384.17 |
| 5 | Orientbell | 792.49 |
| 6 | Asian Granito | 679.99 |
| 7 | Exxaro Tiles | 521.90 |
| 8 | Murudeshwar Ceramic | 237.42 |
| 9 | Nitco | 200.49 |
| 10 | Pacific Industries | 131.68 |
10 Best Tiles Companies In India As Per Production Capacity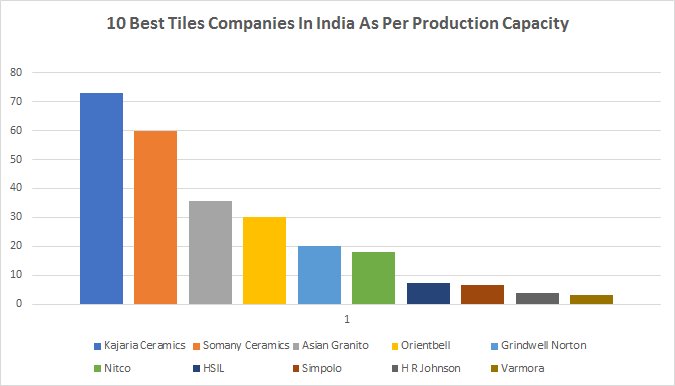 S. No.
Tiles Company
Production Capacity
(MSM)
1
Kajaria Ceramics
73.00
2
Somany Ceramics
60.00
3
Asian Granito
35.76
4
Orientbell
30.00
5
Grindwell Norton
20.00
6
Nitco
18.00
7
HSIL
7.20
8
Simpolo
6.60
9
Varmora
3.20
10
Cera Sanitaryware
3.00
Kajaria Ceramic Ltd
Kajaria ceramics is one of the best tile companies in India, founded in mid-1988 by Shri Ashok Kumar Kajaria and headquartered in New Delhi, India.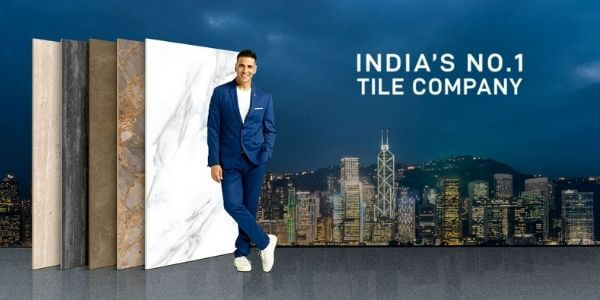 The company has set the benchmark for other tiles companies by manufacturing quality products. The number one tile company has given new heights to the Indian tiles market.
It is the biggest producer of ceramic and vitrified tiles and exports globally to more than 30 Countries.
The leading tile company has nine plants across India in different states, including Gujarat, Utter Pradesh, Rajasthan, and Andhra Pradesh. The number one tile company uses modern cutting-edge technology, which has no error.
The leading tile brand has built the trust of the public and has won the green certificate for a commitment from every Indian.
The brand showcases its tiles pan-India through its broad and established dealer network, providing customers with the widest choice with 2800 designs in ceramic and vitrified tiles across all price points.
Starting: 1985
Headquarter: Delhi
Production Capacity: 70 MAM (Million Square Meters)
Market Share: 6.3%
House Construction Cost Calculator Excel Sheet

Building Estimate In Excel - Importance, Preparation

Standard Room Sizes & Their Location In Residential Building

What is WPC Boards? - Advantages, Disadvantages & Uses
Somany Ceramics Ltd
Somany is another one of the best tiles companies in India, founded in 1969 by the late Shri H.L. Somany and headquartered in Noida Utter Pradesh.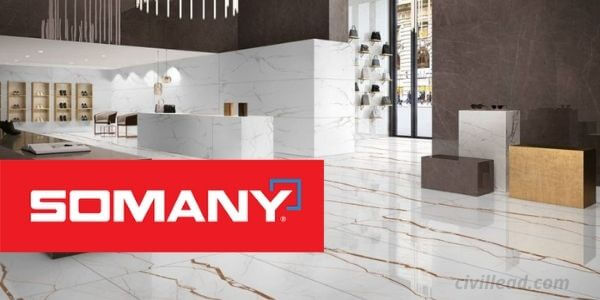 The company has an established strong presence in India and has a significant presence globally, including the United Kingdom, Africa, The Middle East, and Russia.
Somany Ceramica has production units in Kassar (Haryana) and Kadi (Gujrat), India, and other joint venture production plants. The company has an annual production capability of 60 million square meters, making it the second-biggest tile brand In India.
The company uses Italian designs and technology along with Italian and Spanish collaboration for tile manufacturing. In addition, they produce Slip Shield using anti-skid technology for aged people and wet areas such as a bathroom.
The company offers a complete decor solution that provides you with a wide range of products, including ceramic floor and wall tiles, glazed tiles, polished vitrified tiles, digital tiles, and a tile-laying solution. The company also deals in Bath Fittings and Sanitaryware.
The company offers the finest quality with elegant designs at a very affordable price in the market. In addition, the brand has more than 250 state-of-the-art showrooms.
Starting: 1969
Headquarters: Noida Utter Pradesh
Production Capacity: 60 MSM
Market Share: 4.80%
Asian Granito India Ltd
Asian Granito is India's leading Ceramic, Vitrified, Outdoor tiles, Engineered Marble, and Quartz stone manufacturers.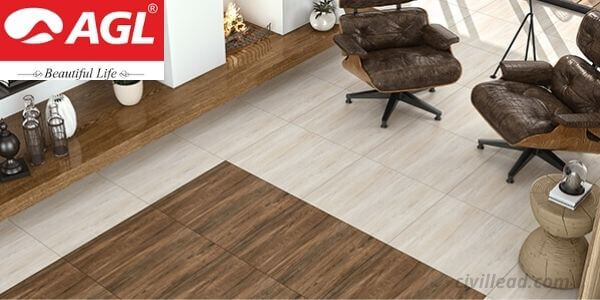 The company was founded in 2000 and headquartered in Ahmedabad Gujrat, India. It is one of the best tiles companies in India.
AGL has appeared as one of the biggest ceramic businesses in India in a short period of 20 years. In addition, AGL has a global presence across the globe in more than 58 countries.
The company has gained massive growth 40 folds in 20 years and is India's fastest-growing tile company. Also, AGL is one of the most profitable ceramic tile companies among the world's 50 most profitable ceramic tile organizations.
The company has eight ultra-modern plants in Gujarat. As a result, the company is offering one of the most durable tiles in the Indian market.
The brand has a broad selling and distribution network, including 6000+ Dealers and Sub-Dealers along with 243+ Exclusive Dealer Showrooms spread all over India. It helps the brand to sell its wide range of products in the market.
Starting: 2000
Headquarters: Ahmedabad Gujarat, India
Production Capacity: 35.76 MSM
Market Share: 3.30%
HSIL Hindware
HSIL is a well-known brand among the best tiles companies in India established in 1960 by Somany Group (promoter group) as Hindustan Twyfords Ltd, in collaboration with Twyfords UK, to introduce vitreous china sanitaryware in India.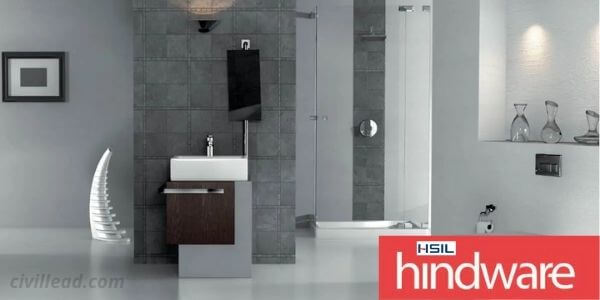 The company was relabeled as Hindustan Sanitaryware and Industries Limited in 1969 and then HSIL Limited in 2009. It is one of the best ceramic tiles and bathroom fittings makers in India.
This company is the most reputable and among the best Ceramic tile company in India, which provides you with the best and most durable floor tile, bathroom fitting, and other building products.
At present, the company has four separate business divisions, that is the Building Products Division (BPD), Retail Division, Consumer Products Division (CPD), and Packaging Products Division (PPD).
As per the Fortune India 500′ 2018 list, HSIL is among India's top 500 companies.
The company also offers you a wide range of products, including home decor and accessories, home furniture, modular kitchens, soft furnishings, and modular wardrobes through retail format stores under the brand name Evoke.
Starting: 1960
Headquarters: Haryana India
Production Capacity: 7.2 MSM
H R Jonson Tiles
H R Jonson is another of the best tiles company India founded in 1958 as a separate division of Prism Johnson Limited(Formerly Prism Cement Limited).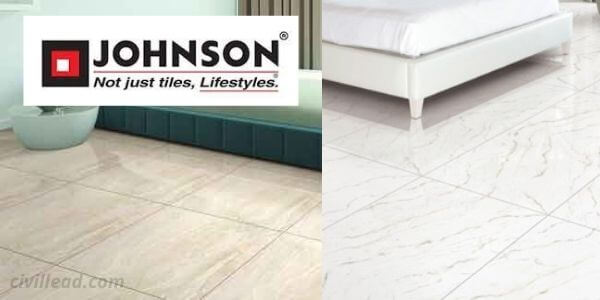 The company is spreading its operation globally, including in Bangladesh, Sri Lanka, and Nepal. They consider enormous pride in the brand name globally connected with high-quality products, primarily with floor tiles & wall tiles.
The brand uses raw materials of the best quality in tile manufacturing, resulting in a pleasant and permanent experience.
The company has ten nearby manufacturing units spread over India. Furthermore, the company has 1000 dealers and 49 branches, and 28 "House of Johnson" showrooms.
The company also offers you a wide range of lifestyle solutions, including Floor and wall tiles for Residential, Commercial, and Industrial Spaces, excellent Marble material, Sanitaryware & Bath Fittings.
Starting: 1958
Headquarters: Mumbai, India
Production Capacity: 4 MSM
Cera Tiles
Cera Sanitaryware Limited was formed in 1998 to give a complete architect and designer solution. The company's headquarter is placed in Ahmedabad.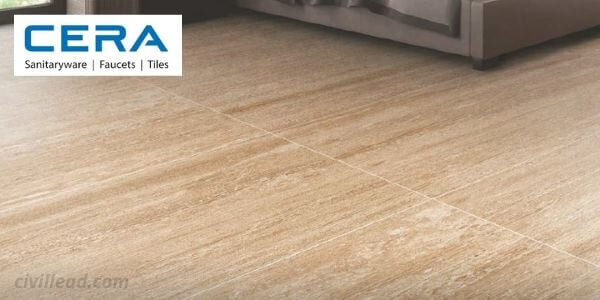 The company makes floor and wall tiles, kitchen sinks, sanitaryware, faucets, mirrors, and personal care products.
Cera is a well-known brand in India that offers high-quality products to customers. The company uses natural gas to give extra shine to the products. All the products are prepared with top-line engineering facilities with the latest technology.
The company also provides customers with wellness products, such as shower partitions, shower panels, shower cubicles, steam shower rooms, and pressure pumps.
The company's main products include ceramic floor tile and ceramic wall tiles, glazed vitrified tile, polished vitrified tiles, HD digital tiles, and elevation tiles.
The company has a wide sales network of more than 4000 retailers across India. They sell their floor tiles under Eterno, Ruvido, Elegante, Refinito, Lucido, and Fiore.
Starting: 1998
Headquarter: Ahmedabad
Production Capacity : 3 MSM
MDF vs Particle Board - Difference Between MDF and Particle Board 

Veneer vs Laminates - Difference Between Veneer and Laminates
Orient Bell
Orient Bell Ltd is a leading tile brand in the Indian tile business. The company was founded in 1977 in New Delhi.
One of the best tile brands in India offers a wide range of colors and designs, and they have something for every consumer to choose from.
The company applies state-of-the-art technology in manufacturing floor tiles, wall tiles, elevation tiles, and roof tiles.
Orient bell is the pioneer in making digital, vitrified, and ultra-vitrified tiles in India. This brand provides you with amazing floor and wall solutions covering the entire range of uses for your living and working places.
The company considers exploring catalogues, and every year, they introduce a new product range in the tile market.
Starting: 1977
Headquarters: New Delhi
Production Capacity: 30 MSM
Nitco Ltd
Nitco is among India's oldest tile-making companies, founded in 1953 by Shri Pran Nath Talwar. It is among the ten best tiles brand in India.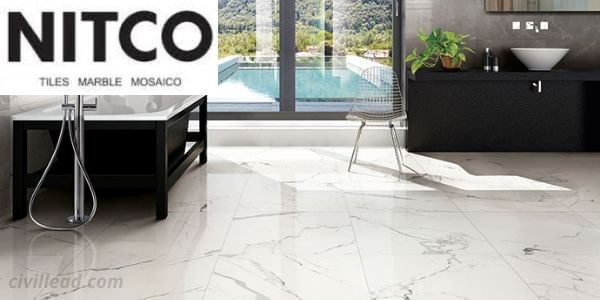 The headquarter is located in Mumbai, India. The company has a significant presence across India that is maintained through 22 offices.
It is one of the premium tile-making companies in India. They manufacture floor and wall tiles as well as marble, mosaic, and metal craft.
Nitco has a strong distribution network having more than 1100 direct dealers. Furthermore, the exports tile globally, including Saudi Arabia, Oman, Qatar, Bahrain, Muscat, Netherlands, Belgium, and other European and African countries.
If you want to give your place a bright look, then Nitco Ltd will be the best choice for branded floor tiles for a home in India.
Nitco provides you with a wide range of vitrified tiles, ceramic tiles, HD digital tiles, Highlighters, Gres Porcelain tiles, mosaic tiles, and Engineered marbles.
Starting: 1953
Headquarters: Mumbai, Maharashtra, India
Production Capacity: 18 MSM
Market Share: 6%
Simpolo Tiles
Simpolo ceramic offers one of the best quality ceramic and vitrified tiles to customers. It is one of the best tiles companies in India.
Simpolo is known for its displays and design-led products.
The company was established in 1977 and headquartered in Morbi, Gujarat, India.
The company has an excellent presence in India and globally, including Sri Lanka, Nigeria, Turkey, the Middle East, the USA, Latin America, the UK, Mauritius, Taiwan, and Singapore.
Simpolo uses advanced technology for producing tiles. As a result, ensures excellent quality products. It is among the biggest makers of ceramic tiles in India.
The company showcases its tiles collection at Ace Tech Exhibition in Mumbai & Ahmedabad (Vibrant ceramics expo).
Starting: 1977
Headquarters – Morbi, Gujarat, India
Production Capacity: 6.6 MSM
Bajaj Tiles
Bajaj tile is one of the famous and Leading tiles-making Brands in India. The company was organised in 1992 in Gujarat, India. It is among the oldest and most reliable tiles-making companies in India.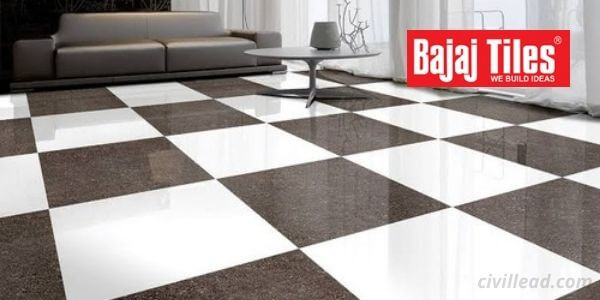 Bajaj company is a well-known brand in India. Since its beginning in 1990, the company is working actively to provide a quality product.
Bajaj is known for its innovation, durability, and quality product in the market. As a result, Bajaj Tiles has created a name for itself in India's top tiles suppliers list.
The company has achieved remarkable growth with its several years of vital services in delivering the best quality flooring in the market.
Bajaj tiles provide you with digital wall tiles and Glazed wall tiles, Polished porcelain tiles (wholly vitrified), and Heavy-duty industrial tiles.
Starting: 1992
Headquarters: Ahmedabad, Gujarat, India
Production Capacity: 75000 Square Meter Per day
Final Words
Apart from the above-listed tiles companies, several tiles companies in India are prevalent in a particular region.
Now it's time to conclude the list of the ten best tiles companies in India in 2022. Now I hope that you have enough knowledge of India's best brands. Now, this is the time to pay for the best.
Each of these brands discussed above has gained its place among the top 10 because of its features and durability.
If you want to add more tiles brands to the list mentioned above, you can mention them in the comment section.
Let me know via comment if you are using any of the tiles brands stated above to decorate your dream home. Please share these best tiles brands with your friends.
Finally, thanks! for reading the article.
FAQs
Which is the No one tiles company in India?
Kajaria Ceramics is India's number-one tile company based on production and market cap. Kajaria ceramic is the biggest ceramic and vitrified tiles producer and exports to more than 30 countries around the globe.
Which is the best floor tile brand in India?
The best brands for floor tiles in India are
Kajaria ceramic
H R Johnson
Orientbell
Nitco
Simpolo
Which tiles are best for the home?
Vitrified tiles are the most suitable flooring for high-traffic areas (living room and bedroom), whereas ceramic tiles are appropriate for the kitchen, bathroom, and stairs. The selection of tiles depends on the overall look you want to make.
Which tile brands are best in India?
The best tiles brands In India are as follows
Kajaria Ceramics
Somany Ceramics
Asian Granito
Orientbell
Grindwell Norton
Nitco
HSIL
Simpolo Tiles
H R Johnson
Cera Sanitaryware
Also, Read
10 Best Cement Companies In India 2021
Difference Between OPC and PPC Cement
Grade of Cement – Difference Between 33,43 and 53 grade Cement
What is Parapet Wall? – Purpose, Types & Use
Difference Between Marble and Granite
Plumbing Trap – Purpose, 15 Types of Plumbing Traps