Heavy Equipment Used In Construction
For extensive construction projects, work speed and timely completion are the most critical factors. Because of that, the mechanization of many works has come into existence.
Equipment and machinery play an essential role in every construction project. Proper use of suitable equipment in a project provides speed, quality, safety, economy, and timely completion.
Multiple equipment and machinery are used in almost all construction projects, such as building projects, irrigation projects, highway projects, buildings projects, power projects, etc. As per the estimation, the cost accounted for equipment and machinery is nearly 15 to 30% of the total project cost.
Types of Heavy Construction Equipment
Different types of heavy equipment are used in construction work. Some of them which are generally used are as follows.
Power Shovel or Excavator
Backhoe
Dragline
Tower Cranes
Bulldozers
Compactors or Rollers
Graders
Scrapers
loaders
Trenchers
Telehandlers
Pile Boring Machine
pile driving machine
Feller Buncher
Paver machine
Slipform Paver
Dumpers
Transit Mixture
Concrete pump
Power Shovels or Excavators
Excavators are one of the most essential and useful earthmoving equipment employed to excavate the earth and load it. Except for hard rock, excavators are capable of excavating all types of ground.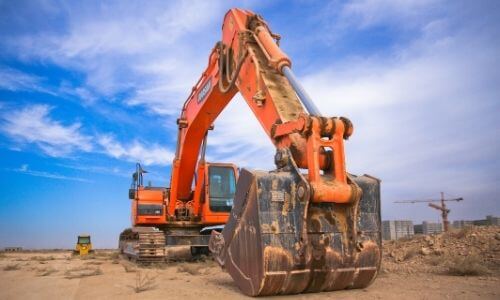 They are available in crawler-mounted, or wheel-mounted options. Crawler-mounted excavators are very useful in unstable soil but have low speed.
On the other hand, wheel-mounted excavators have a higher speed and are helpful only on firm ground. They have a long arm at the end of which a digging bucket is mounted.
It can rotate 360 degrees, which makes it more convenient. They are available in different sizes, and selecting a particular excavator depends upon the type of work. The bucket or dipper size denotes the size of the excavator. Its size varies from 0.375 m3 to 5 m3.
John Deere excavator is a heavy construction machine used to dig, move and place earth and other materials. The most common types of John Deere excavators include backhoes, skid-steer loaders, wheeled loaders and crawler dozers.
John Deere and his father founded the company in 1837 as a manufacturer of farm machinery. It grew into a global corporation that produces equipment for the agriculture, construction, forestry, turf care and entertainment industries.
Backhoe
A backhoe is a multipurpose machine and is widely used. It has many names, including hoe, pull shovel, back shovel and JCB in Ireland and the UK. As the name indicates, it has a hoe arrangement on the rear side of the vehicle.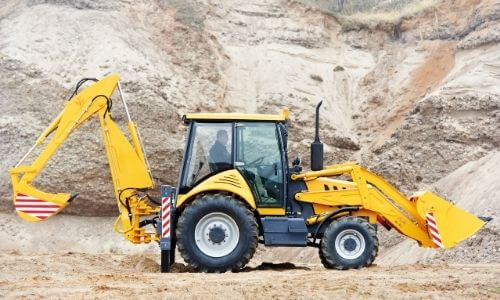 There is also a loader on the front side of the machine. It is useful for excavation below its level. Backhoes are ideal for excavating pits for footing, basement, trenches, and general grading work.
The front loader helps in loading and unloading and lifting materials. Essential parts of a backhoe include the boom, jack boom, boom sheave, boom foot drum, stick, stick sheave, and bucket.
Dragline
Dragline is another heavy piece of equipment belonging to the shovel group. This machine found this name because of its significant excavation operation.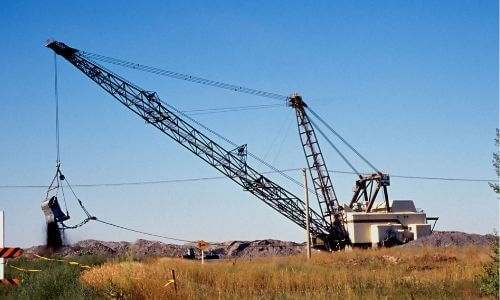 Instead of digging bucket is dragged against the material to be excavated. It consists of a more extended boom than Shovel. It has a bucket that is the primary digging tool loosely connected to the boom by cables.
They are suitable for wet material or underwater excavation, port construction work, and soft material.
Tower Cranes
A Tower crane is a piece of hoisting equipment used to lift the weight from one location and move it to another location at a reasonable distance and then dumping it. It is a fixed crane that can easily lift heavy materials.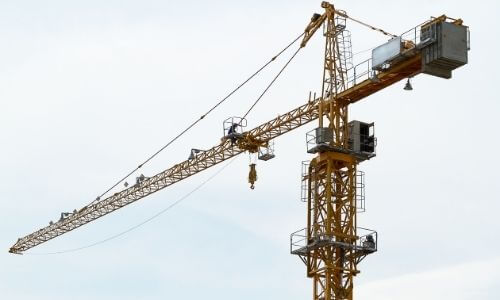 It is used for big projects like constructing the dam, tall buildings, and industrial buildings. Tower crane consists of a tower with the operator's cabin, slewing platform, jib, and undercarriage. The jib is the crane's operating arm, and the arm that carries counter load is called the counter jib.
Bulldozers
It is one of the essential pieces of equipment utilized in specific construction works. They may be used from start to finish of the project. Primarily it is a pushing unit. It is a multipurpose machine that can be used to perform many operations.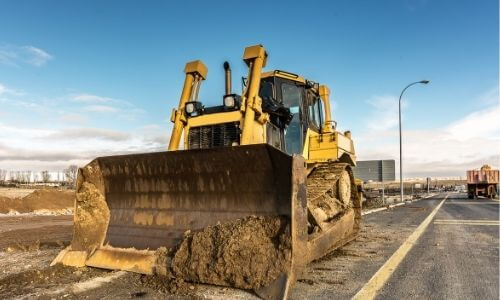 A bulldozer is a tractor on the front of which a suitable straight and wide blade of steel is mounted at a right angle to the direction of the machine's motion.
The blade can be raised or lowered as per requirements. It is used to scrape up the soft and granular material and push it in the forward direction.
It may also be used to stockpile loose material. A bulldozer is most suitable for a situation where pushing material with high force is required.
Compactors or Rollers
Compactors, also known as rollers, are widely used in road construction to compact earth surfaces and materials. Many types of rollers are available for different compaction jobs.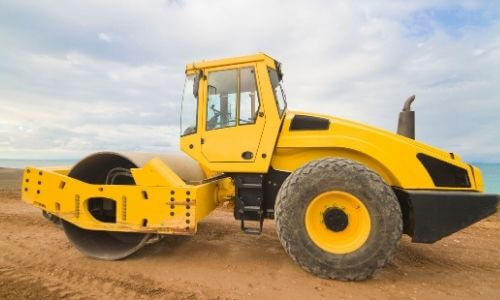 For compacting granular soil like crushed stone sand and gravel, Smooth wheel rollers are effective.
In the construction of dams and canals where compaction deep into the layer of earth is needed, sheep foot rollers are suitable. Pneumatic-tired rollers are ideal for consolidating fine-grained soil and well-graded sand.
Graders
A grader is a machine primarily used for levelling or finishing earthwork. They are widely used in earth road construction, spreading loose material, and shaping a subgrade. They are also useful for slope trimming and gravel mixing.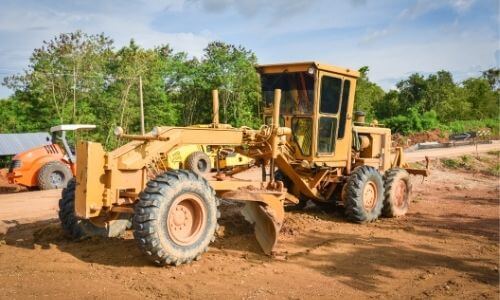 Grading mainly consists of an angled blade 3 to 4 meters long supported on a framework mounted on wheels. The blade can be tilted, turned, and can swivel through 360 degrees lowered and raised to suit the soil condition.
Often a scarifier arrangement for raking hard material and sometimes a bulldozer attachment needed for dozing operations are also attached to the machine. Sometimes other attachments like elevating belt roller etc. are also connected to the grader.
Scrapers
Scrapers are the perfect combination of the best loading and hauling machines. It is a self-operating machine that digs and picks up its load by scraping the ground, hauling it over the required distance, discharging and spreading the material, and then returning it to the pit for picking up the next load.
It is the most economical and valuable for the earthwork operation of a project. A scraper is not dependent on any other machine.
There is some compaction due to the wheel of the machine. This machine's ability to deposit the load in a uniformly thick layer facilitates the succeeding spreading operation.
Loaders
They are used to load the material onto hauling units (Dumper, Truck) at the construction site. Loading jobs in construction sites involves loading excavated earth, raw material, building material, demolition waste etc.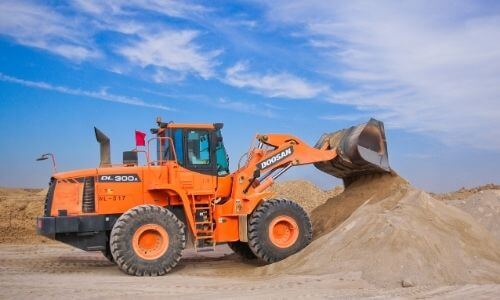 The loader has a large size bucket with a shorter rotating arm in the front. Loaders are available in crawler mounted, and wheel-mounted options.
The wheel-mounted loader has high speed and is suitable for firm ground on the other hand crawler mounted loaders are ideal for unstable soil.
Trenchers
Trenching machines are useful for excavating trenches in the soil. Generally, trenches are excavated for laying cables, sewers, pipelines, etc. Its operation is fast provided with the required depth or width.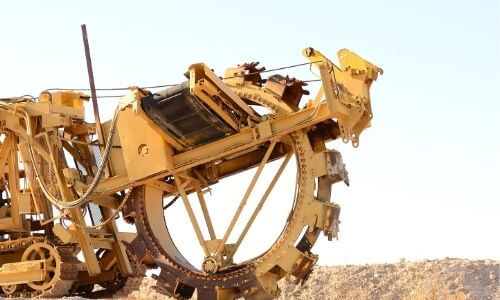 There are two types of trenching machines one is a Wheel type, and another is a ladder type. Wheel-type trenching machines can provide depths up to 3 meters and width, ranging from 0.3 to 0.6 meters.
Wheel-mounted trenching machines have a large wheel equipped with many detachable buckets provided with cutting teeth. Ladder-type trenching machines have a telescopic boom or ladder.
They have detachable buckets mounted on two endless chains. Ladder-type excavating machines are useful for excavation depth of 10 meters and a width of 3 meters. For muddy and rocky soil, this machine is unsuitable.
Telehandlers
Telehandler is a type of hoisting equipment employed in construction jobs for lifting heavy materials to the desired height. It also provides a construction platform for workers at the required height.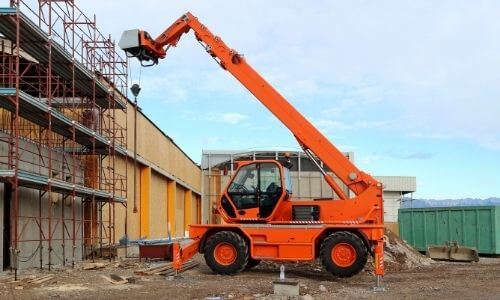 It has a long telescopic boom that can extend forward, upward, and downward from it. Several types of attachment can be fitted at the end of the boom according to the required job.
Pile Boring Machine
Pile boring machine is another type of heavy equipment that is useful to make boreholes in the soil for casting the reinforced concrete pile at construction sites.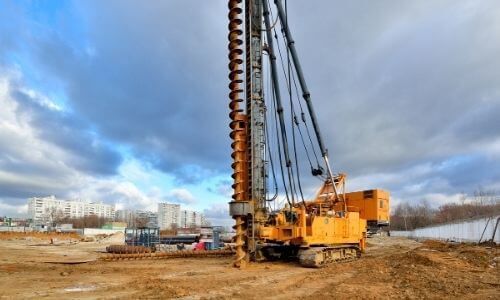 It has different drilling tool options which are used according to the characteristics and nature of the ground to be excavated. An auger or bucket is suitable to bore cohesionless soil.
Pile Driving Machine
It is another type of heavy equipment used to construct a pile foundation at a construction site. The pile driving process includes lifting the, holding it in the right position, and driving it to the specified depth.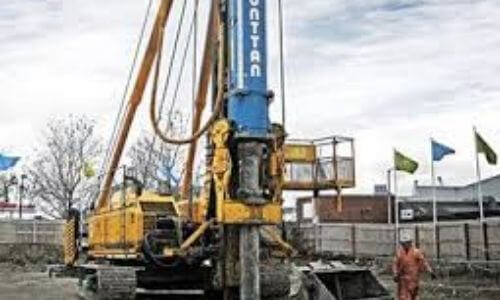 Driving the pile is done by hammering the pile at the top with a hammer. The pile driving equipment is designed so that the piles are driven effectively at an economical cost. Pile driving rigs and pile driving hammers are some of the significant pile driving equipment.
Feller Buncher
This heavy equipment is useful for cutting trees at the construction site. Feller buncher comes with an attachment that can cut the trees and hold them before falling.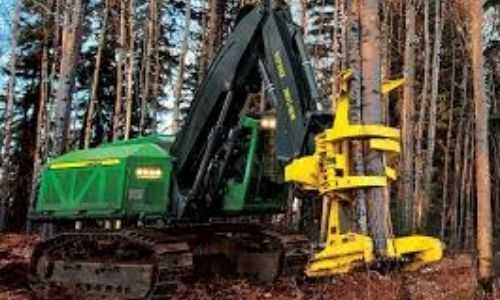 A feller buncher performs both operations cutting down the trees as well as collecting these trees. It has a tree-grabbing tool provided with a chain-saw, circular saw.
Cut trees are placed on a stack that is suitable for the forwarder for transport to further processing.
Paver Machine
Paver or paver machine is a payment laying construction equipment employed in road construction for laying asphalt. Paver machines consist of hopper, conveyor, auger, and screed.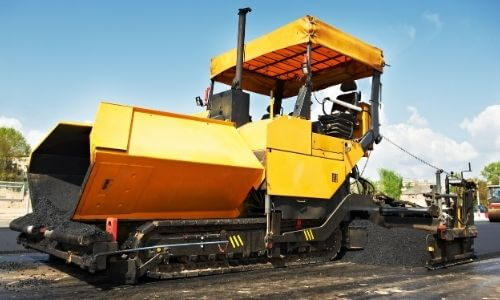 Asphalt is continuously fed into the hopper through a dump truck; then, it is carried from the hopper to the auger by the conveyor.
A stock of material is placed in front of the screed through the auger, and then the screed spreads the supply of material over the road's width and gives initial compaction. However, a proper compaction roller is necessary after laying asphalt.
Slipform Paver Machine
Slipform paver machines are generally used for paving concrete Pavement. They are widely used for the construction of extensive freeways and highways.
A slip-form paver mainly performs three operations that are screeding, consolidation, and initial finishing.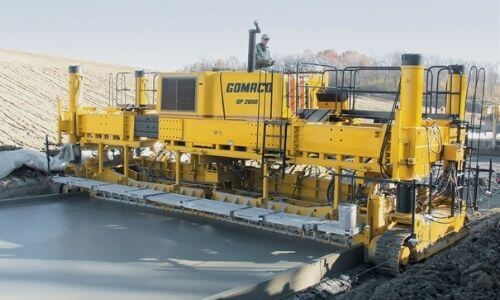 They can also place tie bars or dowel bars if required. A heap of ready mix concrete is placed in front of the machine, and then the auger spreads the concrete strike-off plate.
Strike-off plate, remove the excess concrete placed by the auger and bring the slob to its final shape. A group of vibrators compacts concrete.
Large aggregate particles are pushed below the slab surface through a tamper. Finally, the right elevation is given by profile pans that provide initial finishing.
A track-mounted, self-propelled slip-form paver can operate at speeds between 1 and 2.5 m/minute.
Dump Trucks
Dump trucks are used for the transportation of material in high volume from one location to another. They come in the option to dump material at the bottom, on the side, and the rear.
The selection of a particular type of dump truck depends on soil and road conditions. Off-road dump trucks are suitable for large construction sites.
Off-road dump trucks have massive volume capacity and come with large wheels size, which empowers them to carry a large volume of material on rough ground conditions.
Transit Mixers
Transit mixers are employed to supply freshly mixed concrete to the essential site from the concrete batching plant.
They can transport fully or partially mixed concrete, and mixing may also occur during transportation.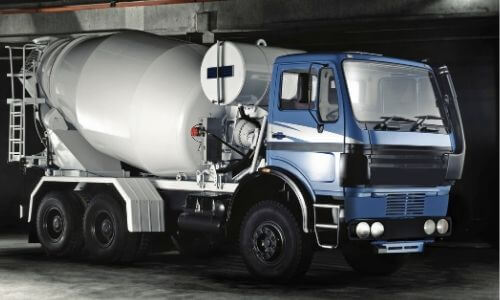 They can transport fully or partially mixed concrete, and mixing may also occur during transportation. The rotation speed of the drum is about 2 to 6 rpm.
A water tank is fitted on the truck to supply mixing and cleaning water to the drum.
Concrete Pumps
Concrete pumps are used to place the concrete on site that is not easily accessible like subways, tunnels, underwater, etc. they perform both tasks of transferring as well as placing concrete.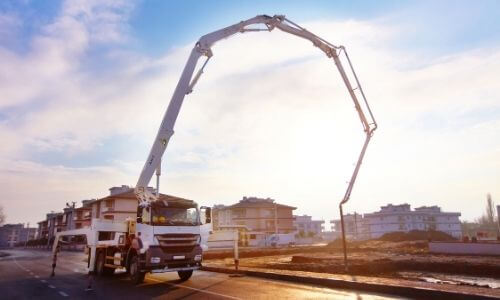 Concrete pumps are reciprocal pumps with two valves, one on the suction side and another discharging side controlling the entry and discharge of concrete.
Concrete pumps can be installed on trucks or trailers. Boom-pressure concrete pumps are incredibly efficient and economical.
Also, read
12 Types of Construction Equipment and How They're Used
Difference Between One way and Two-way Slab
Difference Between PERT and CPM
What is WBM Road? Construction Procedure, Advantages, Disadvantages
Pre-stressed Concrete – Definition, Methods, Advantages and Disadvantages
AAC Block – Properties, Advantages, Manufacturing and Laying Process